Al-Maliki to the Turkish ambassador: The new government will gain the confidence of Parliament very soon, with the participation of all components
Al-Maliki to the Turkish ambassador: The new government will gain the confidence of Parliament very soon, with the participation of all components
2022-10-24 07:36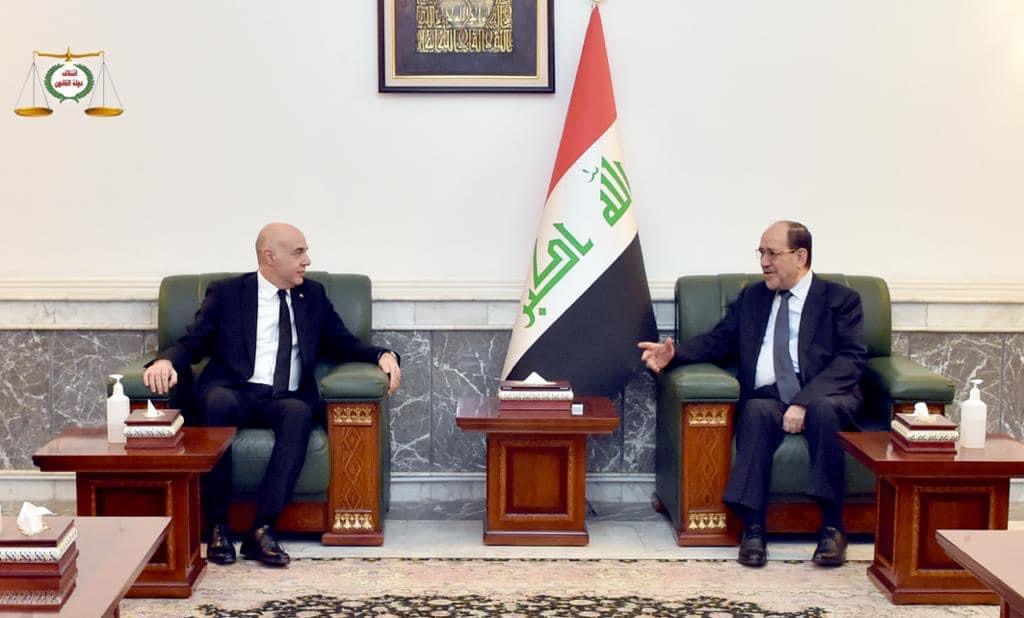 Shafaq News/ The head of the State of Law coalition, Nuri al-Maliki, said on Monday that the new government that he seeks to form, Muhammad Shia al-Sudani, will gain the confidence of Parliament very soon, with the participation of all Iraqi components.
This came during a meeting in his office with Turkey's ambassador to Iraq, Ali Reza Konai, according to a statement received by Shafaq News Agency.
According to the statement, the two sides reviewed the developments of the political and security situation in the country, as well as the bilateral relations between the two countries and aspects of cooperation in various fields, as well as cooperation in solving the water crisis that Iraq suffers from.
Al-Maliki pointed to the depth of Iraqi-Turkish relations and the need to strengthen them to serve the interests of the two neighboring countries, stressing that "Iraq seeks in the next stage to strengthen stability and cooperation with all friends and brothers."
And the head of the State of Law coalition stated that "Iraq is open to the countries of the world and seeks to invest its positive relations in the framework of providing services and providing job opportunities through the establishment of development and service projects," noting that "the new government will gain the confidence of Parliament very soon, and all components of the Iraqi people will participate in its representation." ".
Al-Maliki called on everyone to "support Iraq at the current stage in order to enhance security and peace in all countries of the region."
For his part, Ambassador Konai expressed his country's readiness to support Iraq, stressing Turkey's keenness to respect Iraq's sovereignty and territorial integrity and its desire to strengthen bilateral relations in the interest of the two friendly peoples.
shafaq.com