After deporting Al-Halbousi, Al-Mandalawi chairs an extraordinary session of the Iraqi Parliament
After deporting Al-Halbousi, Al-Mandalawi chairs an extraordinary session of the Iraqi Parliament
2023-11-15 04:21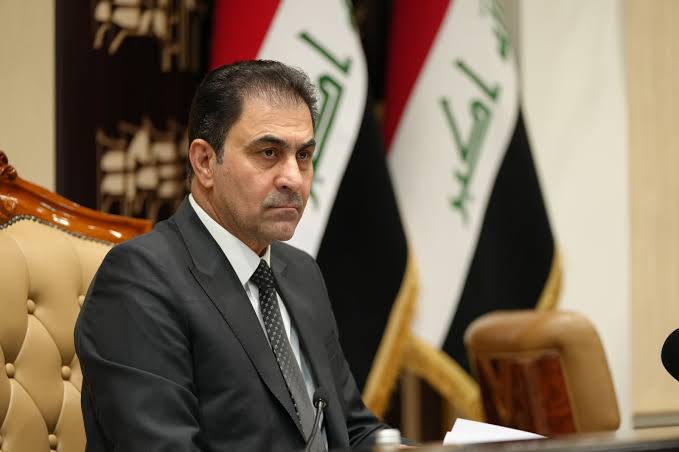 Shafaq News / On Wednesday, the Iraqi Council of Representatives held an extraordinary session headed by the First Deputy Speaker of the Council, Mohsen Al-Mandalawi.
According to a statement by the Council's Media Department, received by Shafaq News Agency, the special session headed by Al-Mandalawi was attended by 172 deputies.
The House of Representatives voted on the Chief Public Prosecutor, Judge Najm Abdullah Ahmed, and the Head of the Judicial Supervision Authority, Judge Laith Jabr Hamza.
The session's agenda included the first reading of the law amending the Election Commission law, in addition to reading and discussing a number of laws and agreements.
This is the first parliamentary session to be held, after the decision of the Federal Supreme Court, which is the highest judicial authority in Iraq, to ​​terminate the membership of the Speaker of the House of Representatives, Muhammad al-Halbousi, based on a "forgery" lawsuit filed by Representative Laith al-Dulaimi.
Al-Halbousi considered that the Federal Court did not take into account all the conditions for terminating his membership in the House of Representatives, stressing that the court's duty is to adhere to the constitution and implement its texts in a way that is not subject to jurisprudence.
Against the backdrop of the federal decision, the ministers and representatives belonging to the "Taqaddum" party led by Al-Halbousi decided, yesterday evening, Tuesday, to resign from their positions and boycott the meetings of the State Administration Coalition, parliamentary sessions, and the political process.
shafaq.com