Al-Sadr's shadow is still on the walls of the frame..a new dispute between the three leaders
Al-Sadr's shadow is still on the walls of the frame..a new dispute between the three leaders
2022-06-27 08:10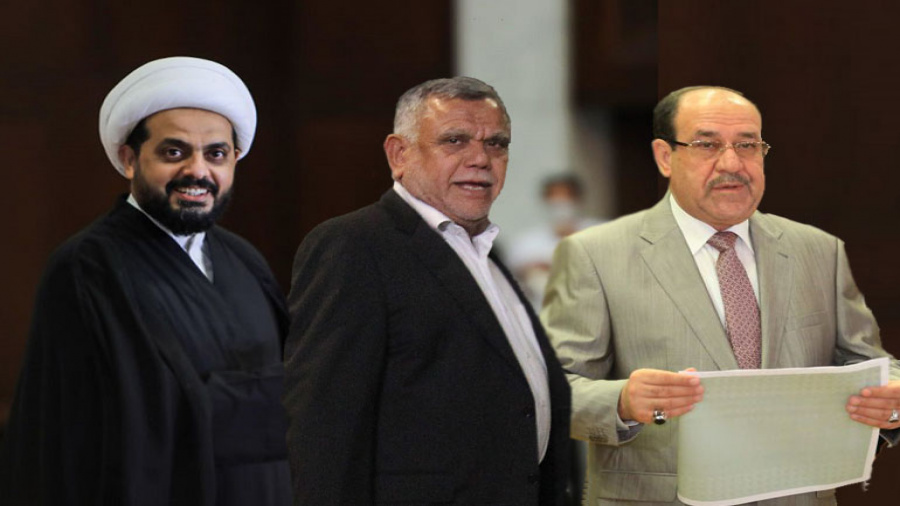 Shafaq News/ A leader in the comprehensive coordination framework of the Shiite forces, with the exception of the Sadrist movement, revealed, on Monday, that new differences had occurred between the forces of the framework.
The leader said, in a statement to Shafaq News Agency, asking not to be named, that the new dispute is related to the issue of dissolving the parliament and going to early elections, as the leader of the State of Law coalition, Nuri al-Maliki, strongly rejects this, while the leader of the Fatah Alliance Hadi al-Amiri and al-Amin supports the issue. Qais Khazali, the leader of the Asa'ib Ahl al-Haq movement, for their refusal to form any government to boycott the Sadrist movement.
He added, "The leaders of the coordination framework will hold a meeting later in the day before their meeting with the Azm Alliance and the Patriotic Union of Kurdistan, to discuss the file of dissolving the parliament and going to early elections, and coming up with a unified position from all the forces of the framework."
Since the resignation of the Sadrist bloc's representatives from the Iraqi parliament and the withdrawal of the Sadrist movement's leader Muqtada al-Sadr from the political process, the coordination framework has been busy after several meetings and announced upcoming meetings to discuss between its leaders on the one hand and the leaders of the political blocs on the other hand about the nature of what will lead to matters and the political process And the nomination of the first deputy speaker of the House of Representatives, the replacement for the resigned first deputy, Hakim Al-Zamili, as well as the formation of the next government and who will be its head.
Political sources, some of them from the coordination framework itself, attributed the delay in resolving these files to the existence of differences between the leaders of the coordination framework, as one group believes that understandings with other political blocs must be proceeded to form the government without the need for the presence of the Sadrists, while the other team insists on the blessing of the leader of the Sadrist movement for steps government formation.
shafaq.com