Composed of 28 deputies.. The first political alliance between Arabs and Kurds in the Iraqi parliament
Composed of 28 deputies.. The first political alliance between Arabs and Kurds in the Iraqi parliament
2021-12-15 07:24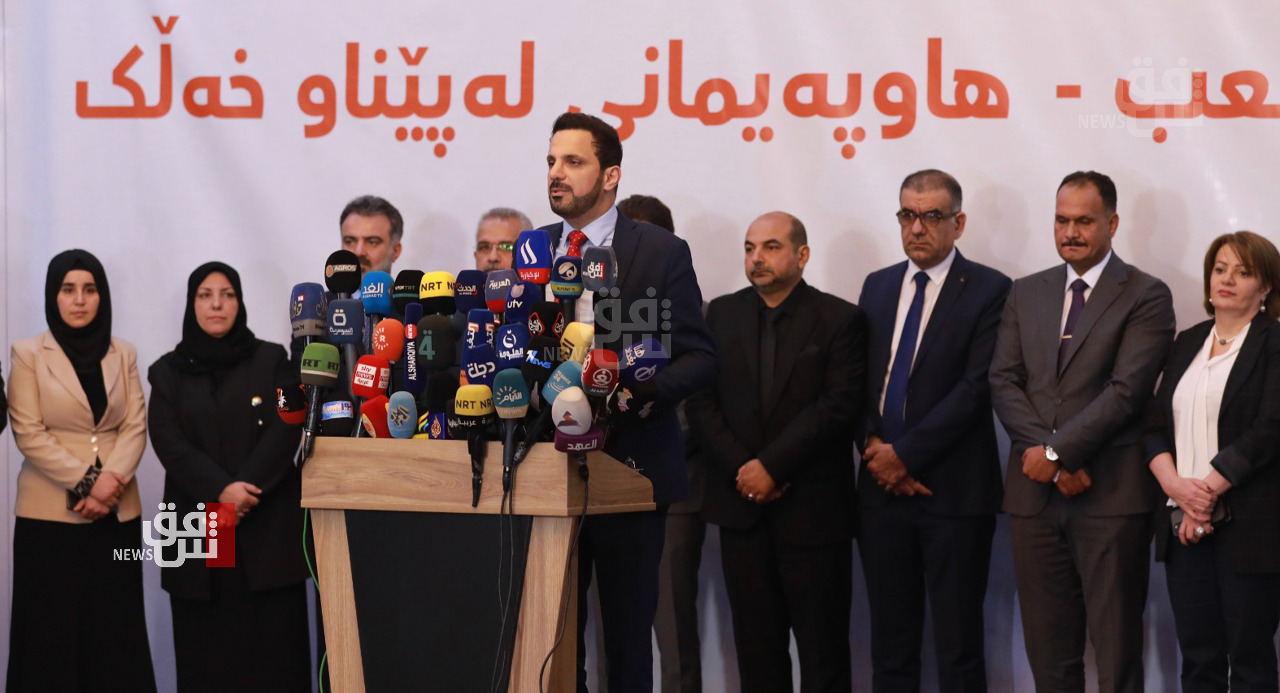 Shafaq News / It was announced in Baghdad, on Wednesday, the emergence of the first political alliance between Arabs and Kurds in the Iraqi parliament, consisting of 28 winning deputies in the legislative elections that were held last October 10.
This came during a press conference, which was held in the presence of the head of the New Generation Movement, Shaswar Abdul Wahed, and the head of the extension movement, Alaa Al-Rikabi, and in the presence of Shafak News Agency correspondent.
And the alliance that bore the name "For the People" includes the new generation, the extension movement, and a number of independents, with a total of 28 winners in the last elections.
During the press conference, Abdel Wahed said, "National constants are an essential part of the national base, and the electoral process is part of democracy, but it is not a decision and a culture to work with as a society."
He added that "the doors of the coalition are open to the honorable people of the country and those who want to build the country, and there is no place among us for those looking for their personal interests," declaring at the same time, rejecting "all government positions, and adhering to the national opposition."
In response to a question for Shafaq News, Shaswar explained, "The coalition includes 18 seats from the New Generation Movement and an extension, and with a number of independents reaching 28 seats, and it may reach more than that," adding, "We believe that a number of MPs will join in the future to join the movement." The coalition may reach 40 opponents in Parliament.
For his part, the head of the extension movement, Alaa Al-Rikabi, noted that this is the first time that he has announced a political alliance that includes the brothers in the one country, Arabs and Kurds, and through the alliance, we seek to unify the efforts of all political decisions, including parliamentary ones.
Al-Rikabi added: "Our alliance is for the sake of the people, and we will not participate in any quota government, and we will be a true and proud opposition during the current parliamentary session," explaining that "the opposition within Parliament will be for political and other projects that harm society."
He pointed out that "the coalition (for the people), is part of the people, and the demonstrations were expressing the people, and the problem was in the administration," noting that "the future generations in the country, if the real opportunity is provided, will have a role in leading this country."
shafaq.com