The Iraqi Oil Minister calls for the approval of the Sovereign Energy Fund to "guarantee the rights of generations"
The Iraqi Oil Minister calls for the approval of the Sovereign Energy Fund to "guarantee the rights of generations"
2021-11-30 01:22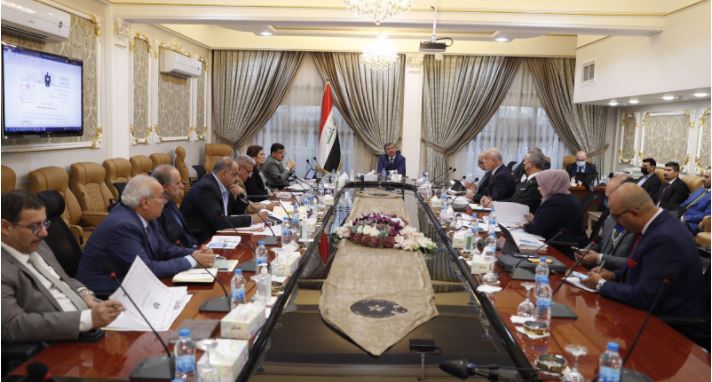 Shafaq News/ The Chairman of the Iraqi Ministerial Council for Energy called, today, Tuesday, Oil Minister Ihsan Abdul-Jabbar, to approve the "sovereign fund" project in financing long-term investment projects in the energy sector, stressing its importance in supporting the national economy and ensuring the rights of future generations.
Abdul-Jabbar said in a statement received by Shafaq News Agency, that he chaired, today, the weekly meeting of the Council, indicating that the Sovereign Energy Fund project was one of the most important projects that were discussed due to its importance and objectives, which revolve around achieving justice in the distribution of revenues from oil and gas, and how to invest and develop them. Through promising programs and projects, and clear plans commensurate with the great development in the world.
Among those projects, Abdul-Jabbar explained, "supporting electric and renewable energy projects, and investment projects that aim to create clean, sustainable, environmentally friendly energy," noting that "this fund would achieve sustainable development by financing and supporting long-term investment operations in the energy sector." Energy, as well as its importance in achieving flexibility in implementing energy plans and programs, as well as supporting and encouraging projects implemented by non-governmental sectors.
The Minister of Oil added that "one of the fund's objectives is also to work to provide and cover the local need for electrical energy at the lowest cost, and in accordance with sound environmental standards."
He pointed out that "the council also discussed, during its meeting, the draft law on regulating renewable energy, which is one of the very important projects, as the Diwani Order Committee 54 was hosted," explaining that "the law will work on developing a set of legislation and instructions that will organize the renewable energy industry in the country, with an emphasis on the role of ministries." concerned with the subject (environment, electricity, science and technology).
The Chairman of the Ministerial Council for Energy expressed his hope that "this project will be approved after discussion during the next parliamentary session, and it is one of the important projects that must receive the attention of the next parliament."
shafaq.com