Washington and "closed meetings" push Al-Sadr to re-calculate the elections
Washington and "closed meetings" push Al-Sadr to re-calculate the elections
2021-08-02 01:53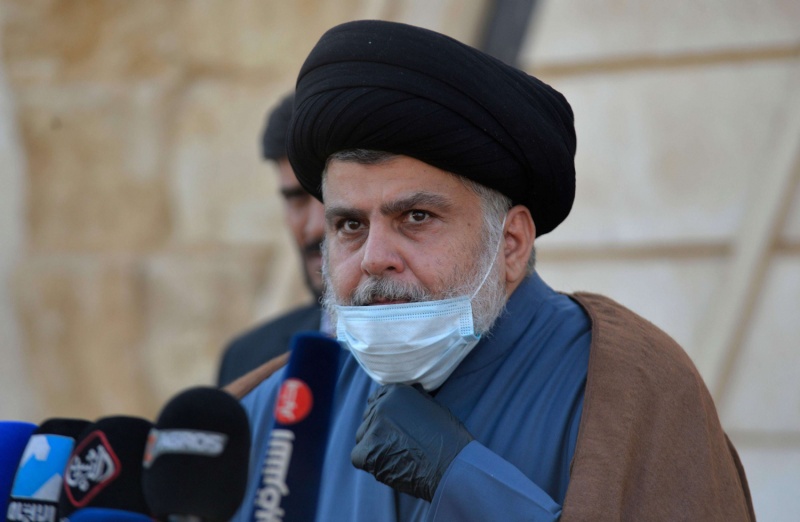 Shafak News / Two weeks and a few days after the leader of the Sadrist movement, Muqtada al-Sadr, decided to boycott the elections to be held on the tenth of October, until he returned to studying the possibility of reversing the boycott decision, which comes as a result of "unannounced" meetings urging al-Sadr to return from one side. And the recent visit of the Prime Minister to Washington and what was achieved on the other hand.
Close to the leader of the Sadrists, revealed on Monday, that there are meetings inside and outside the movement, pushing for the study of ways to return to strong and effective participation in the upcoming parliamentary elections.
"The meeting that took place recently between the three presidencies and the political leaders came in order to gather the political process, which began to crumble little by little as a result of the withdrawal of some political forces from the electoral process," a close associate of al-Sadr told Shafaq News Agency.
He added that "Prime Minister Mustafa Al-Kazemi's recent visit to the United States of America, and the achievement he achieved on the issue of withdrawing US combat forces from Iraq, will have a positive impact on the future of Iraq."
The source indicated, "This matter may push the Sadrist movement to reverse the decision to boycott the early parliamentary elections," pointing out that there are meetings of the Sadrist movement to study the results of Al-Kazemi's visit to Washington and the goals achieved, as well as the results of the meeting of the three presidencies and political leaders.
And he, who is close to al-Sadr, noted the imminent issuance of a final decision on the issue of continuing or reversing the boycott, adding, "The decision to boycott al-Sadr was not final and is reversible according to political developments."
Political pressure continues on the Sadrist movement, in order for the current to return to the electoral process, according to the source, who confirmed the existence of "unannounced meetings for this purpose", citing the reason for "these forces' fear of the Sadrist popular base boycotting the electoral process, which may affect the percentage of citizens' participation." .
He concluded by saying, "There is a fear that the results of the Iraqi elections will not be adopted by international parties, due to the lack of participation rates, and the Sadrist base, according to studies, makes up more than 25% of the voting process."
shafaq.com