An American in Baghdad and the Al-Kazemi government were hardened in the face of the repercussions
An American in Baghdad and the Al-Kazemi government were hardened in the face of the repercussions
04:32 – 27/09/2020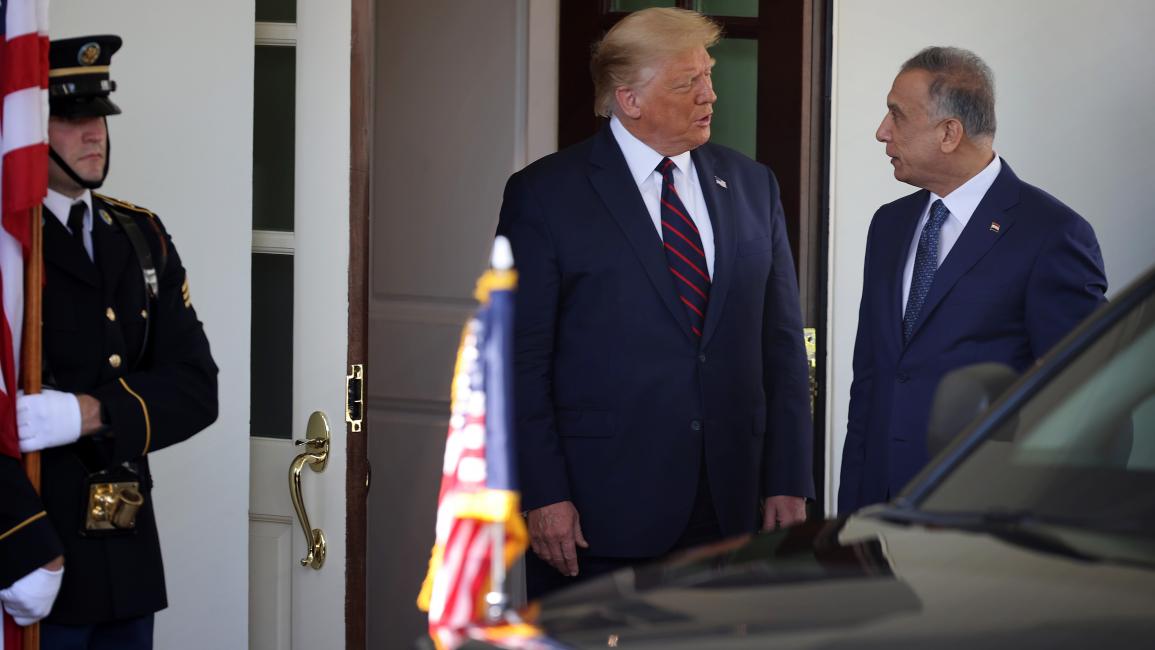 Follow-up – Mawazine News
Washington, whose forces and interests in Iraq are exposed to almost daily attacks, threatened to close its embassy in Baghdad, which could lead to a fatal blow to Prime Minister Mustafa Al-Kazemi, who is seen as a prominent ally of it.
Iraq has long been caught in the middle of the tensions between its allies Iran and the United States, which made it in an unenviable position due to the policy of "maximum pressure" that Washington has pursued against Tehran since 2018.
In a new escalation, Iraqi and foreign officials told France Press that the US Secretary of State Mike Pompeo called Iraqi President Barham Salih last week and gave him a strong warning.
The sources said that Washington warned that "if the security and judicial authorities in Iraq do not move against targeting missions and coalition forces, they have other alternatives to ensure that this situation does not continue."
An Iraqi official told AFP, "Washington is not only disturbed by what is happening against the diplomatic missions, but it is very, very, very upset and this disturbance will be followed by measures."
The United States still has hundreds of diplomats in the Green Zone in Baghdad, where security measures are tight, and about 3,000 soldiers are stationed in three bases across the country.
Since 2019, dozens of rockets and explosive devices have targeted these sites, and US officials and Iraqis have accused pro-Iranian factions, including the Iraqi Hezbollah Brigades.
Washington twice responded with strikes on the "Phalanges" in Iraq and threatened earlier this year to bomb more than 120 other sites if the missile strikes caused casualties among the Americans, a senior Iraqi official told AFP.
The frustration persisted even after the start of Prime Minister Mustafa al-Kazemi's term in May, and is seen as having Western leaning.
A high-ranking Iraqi official told AFP, prior to Al-Kazemi's visit to Washington in August, that the United States indicated that it was "not satisfied with his dealings with the pro-Iranian factions."
The United States refused to comment on Pompeo's recent invitation, but a US State Department official told AFP that "the Iranian-backed factions that fire missiles at our embassy pose a threat not only to us, but to the government of Iraq."
The widening gap –
the US raid in January that led to the assassination of a prominent Iranian general, Qassem Soleimani and Abu Mahdi al-Muhandis, deputy head of the state-sponsored Iraqi Popular Mobilization Forces, is still fresh on the minds of Iraqi officials and armed factions.
Since then, some of the leaders of the factions remained silent for fear of being subjected to US strikes or sanctions, and others disappeared completely from view.
And it appears that the new US threats have deepened the growing rift between the Iranian-backed factions and those less prepared to enter a full-on confrontation with the United States.
After months of silence, influential cleric and political leader Muqtada al-Sadr called on Twitter this week for "the formation of a security, military and parliamentary committee to investigate" the missile attacks.
Within minutes, Al-Kazemi and other prominent government figures welcomed the invitation.
Even the Popular Mobilization Forces criticized the missile attacks, saying that it "is not responsible for parties that use its name for the purposes of distortion (…) and to carry out suspicious operations and illegal military activity targeting foreign or civilian interests that are not consistent with the principles of the state."
– "Message" –
The factions see Al-Kazemi as Washington's man in Baghdad and are angry at his promises aimed at restraining them.
An official in one of the influential Shiite parties said: "They are sending a message from Iran to the United States: The recent political developments have not changed anything, we can still hit you hard, and no leader can implement your agenda in Iraq."
This could leave the prime minister in an awkward position.
A Western diplomat in Baghdad told AFP that the US withdrawal could give his rivals an unintended propaganda win.
"If Washington continues and withdraws its elements, these factions will be able to boast that they expelled the Americans from Iraq at a minimal cost," he added.
The Iraqi parliament voted in January to expel the foreign forces stationed to help fight terrorism, but Al-Kazemi tried to slow down the implementation of this decision.
It has also embarked on an anti-corruption campaign, launched a strategic dialogue with Washington and sought to speed up deals with American companies that would reduce Iraq's dependence on Iranian energy imports.
Western diplomats and analysts said his fall could be a nightmare for Iraq's stability.
"If the United States actually closes its embassy, ​​it will leave Al-Kazemi in a very weak and dangerous position, which opens the door for militias to expand and may take extreme measures against the state," said Ali Mamouri, an analyst and editor at the Iraqi Pulse newspaper.
mawazin.net