Barzani: Baghdad is heading for war and Iran is pushing for chaos
Barzani: Baghdad is heading for war and Iran is pushing for chaos
Saturday, October 14, 2017 Time: 14: 00 pm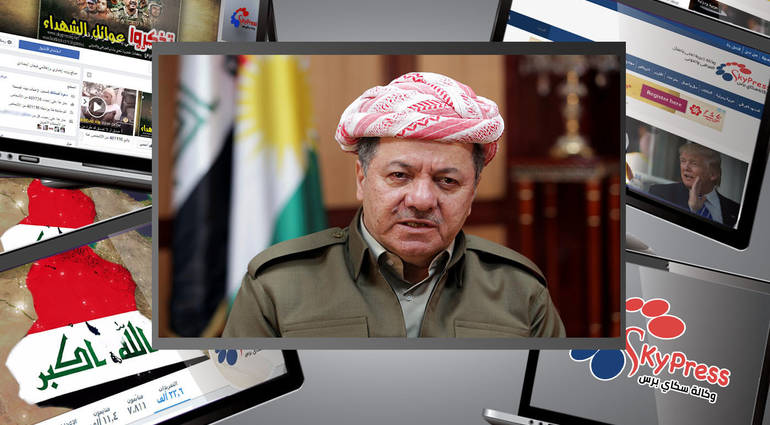 Baghdad / Sky Press
Accused the leader of the Barzani Party, "Mahma Khalil," on Saturday, the Iraqi government to implement the orders of Iran and go to ignite a war with the Kurds, indicating that Tehran seeks to create chaos to control the region.
"Khalil said in an interview with Sky Press that" the movement of the popular crowd and the army in Kirkuk came in response to orders from Iran and under its direction to create chaos in Iraq, "noting that" Iran aspires to be the main player in the region and to control it Through the spread of chaos in Kurdistan, "according to the new Arab newspaper Qatar.
"The government denies in the media that there is an intention to go to war, but the steps taken are steps of war, despite the democratic and constitutional steps of the region and the desire for dialogue," he said.
He pointed out that "the region wanted to convey positive messages, but Baghdad is unable to find a solution because it implements agendas from outside the border," blaming the United States of America part of the responsibility of being "clearly shortened and did not fulfill its duty in this crisis, and the United Nations falls short of its duties "He said.
He pointed out that "the Iraqi army unfortunately became one community and the crowd with him receives orders from abroad, which do not benefit the interest of Iraq," stressing that "the Kurdish people throughout history defends its soil and we do not accept that and we will respond to any threat."
He stressed that "Baghdad would not have made these steps without the support of Iran, and that the efforts of Baghdad will fail because the government failed to secure the inside, how to open fronts and it could not maintain and secure Baghdad," stressing, "We reject the threat language and will be a cemetery for all those who want to harass the people Kurdish. "
He concluded that "decisions Abadi against the Kurdish people was not issued by any other president, even before 2003 did not face such decisions, the Iraqi government does not respect the Constitution and the law can not be intimidated and the export of crises."
skypressiq.net