Jubouri issues a statement on his meeting with Barzani
Jubouri issues a statement on his meeting with Barzani
Sunday, October 08, 2017 at 16: 18 pm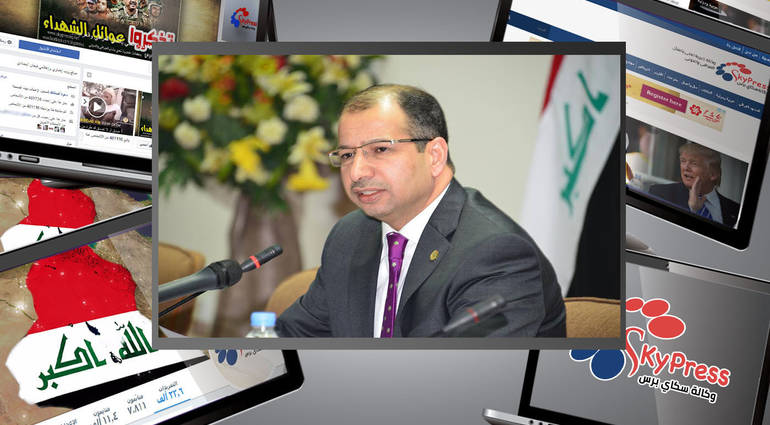 Baghdad / Sky Press
The Office of the Speaker of the House of Representatives, "Salim Jubouri," Sunday, that the meeting with the President of the Kurdistan region, "Massoud Barzani, came to stop the deterioration of the relationship between the center and the region after the" serious repercussions "left by the referendum on September 25.
"The entry of regional states into the crisis between Baghdad and Erbil as parties threatens the security and stability of Iraq as a state, and in order to return all parties to the search for a way out and end the state of separation between the center and the region, and to prevent," a statement issued by al-Jubouri told Sky Press. Worsen things and access to closed roads. "
Al-Jabouri stressed during the meeting the need to "stick to the unity of Iraq and the security of its people and its stability, to preserve the political tracks and to resort to the constitution. It is the solution to all the crises, and to deal with matters that have exacerbated the situation in such a frightening manner. "And called on all parties to" abide by national principles and to ensure the complete end of the existence of terrorism and to close all avenues through which political differences can be reached, and to grant all Iraqis their rights under the principle of justice and equality, and to harness all potentials and capabilities. " To activate economic development and attention to the service and living side of all people in all regions, "according to the statement.
On the referendum, the statement said that the research focused on "ways that can be adopted to overcome what happened, specifically in the disputed areas and the positions of local and international parties, and the actions taken to reflect the principle of the unity of Iraq and the federal starting from the Constitution," noting that the parties stressed the importance of Partnership and respect for its foundations and concern for comprehensive interests and the need for a comprehensive dialogue of all issues and calm the situation without threat language.
The statement pointed out that the president of the province had a view on the referendum and the next phase and ending the crisis. The speaker of parliament found it necessary to deliberate with the government, parliament and political and national actors to "develop a vision that serves Iraq and achieves its cohesion and transcends the problems it has suffered."
The President of the Kurdistan region, Massoud Barzani, stressed during his meeting with Jubouri, on Sunday, that the region is ready to dialogue with the central government in Baghdad without any preconditions, according to the political adviser in the Office of the Presidency of the Territory, Horman Hawrami, in a tweet on Twitter "He said.
skypressiq.net