Al-Baghdadi breaks a year of silence: We will not be discouraged by the many murders!
Al-Baghdadi breaks a year of silence: We will not be discouraged by the many murders!
Saturday, September 30, 2017 at 11:15 am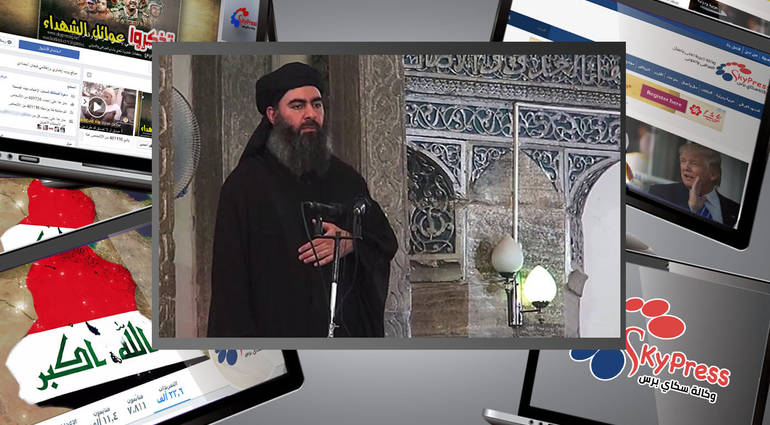 Baghdad / Sky Press
The leader of the organization calling on the terrorist "Abu Bakr al-Baghdadi," yesterday, in a lengthy audio recording after a year of silence, and expected the outbreak of war between the Kurds and Turkey, claimed that the large number of fighting will not dissuade the organization.
He said in a 46-minute audio recording through the Al-Furqan news agency linked to the hard-line organization that the Turkish government is living with great fears of Kurdish expansion on its borders. He described Iran as "greedy", seeking Gulf oil and Yemen's dependence on it.
The 46-minute registration date was not clear, the Reuters news agency reported.
"Al-Baghdadi's audiotape refers to North Korea's threats to the United States and Japan," Baghdadi criticized the US recording, pointing out that Russia was running the Syrian file instead.
The voice recording published by the organization made no reference to its recent status, ignoring the loss of organization in Mosul and the battles in Raqqa, and the most prominent developments related to the organization. The date of registration was not clear.
The registration comes amid increasing speculation about the fate of Baghdadi after the organization lost most of the territory it controls in Iraq and Syria.
In June, Moscow announced the availability of information about the killing of Baghdadi with scores of leaders in a raid in the Russian raid south of the city of Raqqa, the stronghold of the main organization in Syria.
While the Syrian Observatory announced at the beginning of last July that the leaders of the Daqsh in the city of Raqqa met to choose a new leader of the organization amid reports of the death of al-Baghdadi.
In June 2017, the media around the world issued a statement attributed to the so-called Raqqa state, which reported the killing of al-Baghdadi in the countryside.
skypressiq.net