What motivated the establishment of a US military base near Tal Afar?
What motivated the establishment of a US military base near Tal Afar?
Thursday 10 August 2017 at 11:52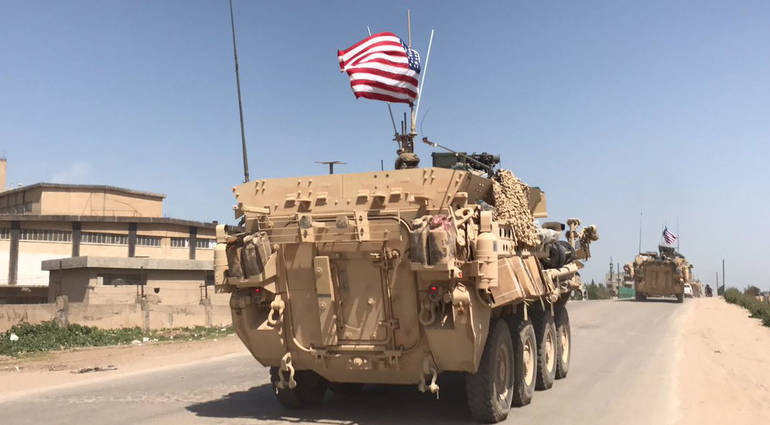 Baghdad / Sky Press: m
An official military source revealed on Thursday the establishment of a US military base near Tal Afar district, west of Mosul.
"The establishment of the base came under consultations between US and Iraqi forces last Friday in the Zammar area west of Mosul," said Mahdi al-Khafaji, head of the Iraqi army's heavy military vehicles unit.
According to Khafaji, the technical and engineering teams completed more than 50% of the work of establishing the base.
The military base is to be used to oversee the liberation of Tal Afar from the control of the terrorist, according to the source.
He pointed out that "US special forces and advisers, arrived by armored vehicles to the location of the base, and stationed in it."
Since the liberation of the city of Mosul on July 10, security forces are preparing to launch an attack on Tal Afar, but it is not clear when the military campaign will begin.
The Tal Afar front is about 60 kilometers long and 40 kilometers wide. It consists of the town of Tal Afar, the center of the judiciary and the towns of Ayadiyah and Al-Mahalibiya, as well as 47 villages.
For his part, said the officer in the command of Nineveh operations Ahmed al-Jubouri that "the establishment of the base strengthens views on the movement of forces towards Tal Afar.
Jubouri said that "work at the base now, to prepare a runway for the landing and take off of warplanes that are likely to provide logistical support during the operation."
He pointed out that "a lot of joint ground military units have taken the influx, and on a large scale, towards Tal Afar district."
"About 30 tanks, 190 armored vehicles, 100 bulldozers, 200 armored assault rifles, more than 500 Hummer armored vehicles and other equipment will participate in the liberation of Tal Afar from Da'ash," Jabouri said.
The Iraqi air force and the international coalition led by the United States launched air strikes inside and around Tal Afar, paving the way for the security forces, which announced last Sunday to end preparations for military action.
skypressiq.net