Barzani threatens Abadi with "bullets"!
Barzani threatens Abadi with "bullets"!
Wednesday, August 02, 2017 at 11: 36 am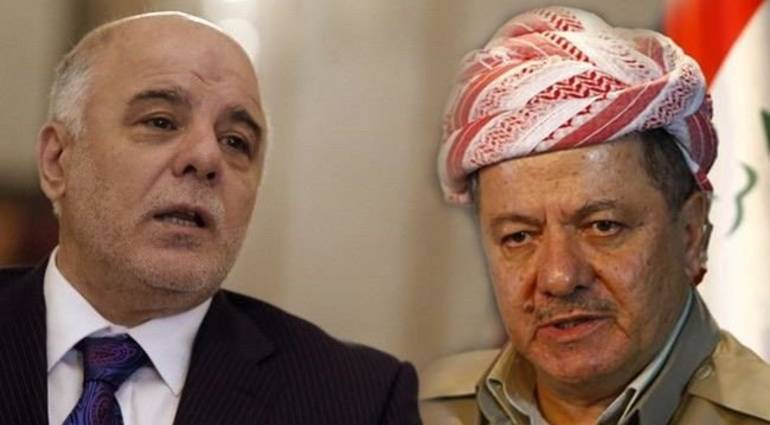 Baghdad / Sky Press: m
The President of the Kurdistan region Massoud Barzani, on Wednesday, President Fuad Masum and Prime Minister Haider Abadi responsibility for any point of blood may spill in case the federal government in Baghdad continues to use military force to prevent the holding of a referendum on the province, which will be on schedule, threatening that the Kurds will not stand idly Hands and will be shot dead.
The newspaper "Okaz" Saudi Arabia, Iraqi sources, seen by Sky Press, "that" the federal government practices a policy of ash in the eyes and speak in two different languages, while calling for dialogue with the Kurds launched an attack on them, hinting at the use of military force to prevent the referendum The army and the crowd.
On the other hand, he considered infallible that the draft referendum in the Kurdistan region is just ambitious, stressing that there can be a separation at the present time, and said yesterday (Tuesday) during a meeting with a number of diplomatic missions in Baghdad: "The referendum is only ambitious and can not be achieved Separation at the present time », expressing the hope that Iraq remains one unified.
In the same context, quoted the Iranian Mehr Agency for the Prime Minister that "Baghdad considers the referendum of independence of Kurdistan more than serious and not only the illegality of the referendum, but beyond to create new problems."
Abadi said: "All Iraqi parties respect the Kurds and any new step must be within the Iraqi constitution, which everyone considers a national charter," noting that "the interests of Kurdish citizens in Iraq does not lie in the separation and exit from the unity of Iraq, "He said.
The Barzani, announced after a meeting in Erbil with a number of representatives of the Kurdish parties on April 24 last, the date of the twenty-fifth of September next date for the referendum on the independence of Kurdistan, which has generated mixed reactions at the Iraqi and international levels.
skypressiq.net