US intelligence gives for "Barzani" green light to push for independence
US intelligence gives for "Barzani" green light to push for independence
Saturday July 8, 2017 at 15:06 the evening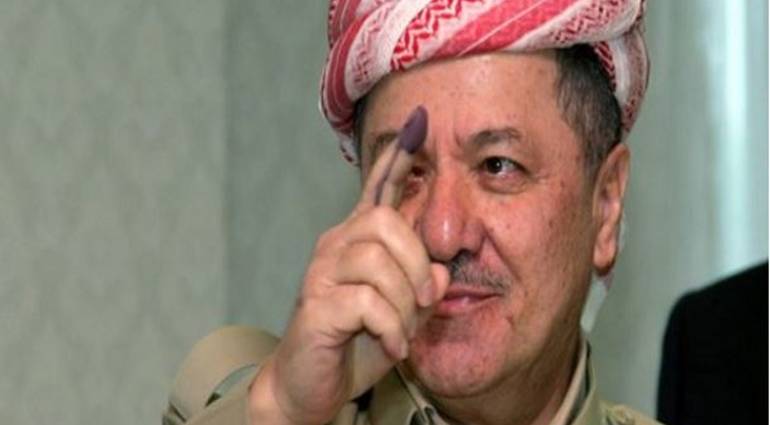 BAGHDAD / Sky Press: m
Revealed leaks from a US intelligence security services on Saturday to give the President of Kurdistan, Massoud Barzani, the green light to proceed with the independence.
The leaks indicated that "the United States has given the President of the Kurdistan region, Massoud Barzani, the green light to proceed with the independence referendum, especially since most Arab personalities in favor of excluding Turkey, reserving the decision of Iran and Shiites to him."
The leaks confirmed that "the media Turahqat exchanged Barzani and his opponents are not only propaganda media smokescreen and to achieve special gains, and to coincide with the proximity of the elections."
She added that "the behest of the central government monitored the election commission approximately 6 billion dinars for a referendum of independence."
She said, "close to the cabin Barzani in Washington, specifically his representative works there is in full swing to boot to the referendum."
To that American advisers said that the referendum is only a paper pressure to compromise on the elections, "stressing that" Barzani will not leave his post and give up the political and personal gains, especially since the referendum will not give him both political hostility regional and international. "
He said, "Independence is not only a pressure on the central government as well as to gain personal benefits and is pleasing to the audience that has long let them down."
The Turkish president, Recep Tayyip Erdogan said, to hold a referendum on independence for Iraqi Kurdistan's decision is "a threat to the integrity of the Iraqi territories."
The President of the Kurdistan region, Massoud Barzani, held a meeting in the city of Arbil recently with a number of representatives of Kurdish parties, the center of the MDC Province and Jemaah Islamiyah, and announced at the end of the meeting to determine the fifth day of the month of September next date for the referendum on the independence of Kurdistan, which traces mixed reactions to the Iraqi and international levels.
skypressiq.net