Nineveh tribes: the Iraqi government are all under the control of Qassem Soleimani
Nineveh tribes: the Iraqi government are all under the control of Qassem Soleimani
Sunday June 04 2017 at 16:08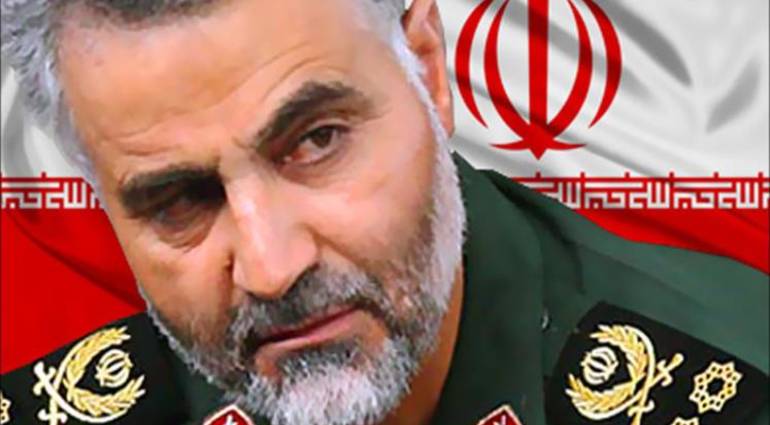 BAGHDAD / Sky Press:
The spokesman for the families of Nineveh, Muzahim Ahoit that "the Quds Force commander of the Iranian Revolutionary Guard, Qassem Soleimani, came and explored the border area with Syria in an area (or Jeris) on the Syrian-Iraqi border, on 05/30/2017, and met with leaders of the system Syrian leaders of the Kurdistan workers' Party, in addition to the popular crowd and the leaders of the Iranian Revolutionary Guards in that region. "
He said Muzahim Ahoit, in an interview I followed "Sky Press", "The aim of that meeting is an alliance and the opening of a road between Syria and Iraq to facilitate the passage of the elements of the Iranian Revolutionary Guard Corps or Jerusalem."
He added Ahoit, they "consider Qassem Soleimani, the Iraqi government itself, because it does not receive orders from the Iraqi government, but the entire Iraqi government under the control of Qassem Soleimani."
On the component of the Sunni position on this visit, Ahoit indicated that they "refuse to visit Qassem Soleimani because they consider him a criminal, and will not accept a visit or another Iranian to Sunni areas, because the goal of these visits is the escalation of sectarian tension and create sectarian strife again between the Sunnis and the rest of the components of Iraq" .
Increased Ahoit: "We see that the goal of the visit Qassem Soleimani is the alliance with the Syrian regime to enter the elements of the Revolutionary Guards and the Qods Force, as well as the displacement of the year, whether in Iraq or Syria, and has already refused to visit Soleimani for any area, because it is one of the criminals who have committed crimes against Arabs year innocent. "
He said: "We have no relation Bdaash, The fate of the militants of this organization depends on the crowd or the Peshmerga or the security forces, must militants accountable Daesh for their crimes, but that Soleimani come and militias and Iranian meet with leadership, it means that those areas have become an Iranian."
Finally, a spokesman for the families of Nineveh, saying: "We asked the former and once again call on the entry of US forces to prevent such visits, and to prevent Iranian interference in Sunni areas, because it will create a large sectarian strife, and if the fire will not be able to borrow one of Extinguishing".
skypressiq.net