After offering the security forces … Daash withdraw abruptly west of Fallujah
After offering the security forces … Daash withdraw abruptly west of Fallujah
Published on: 6-11-2016, 13:18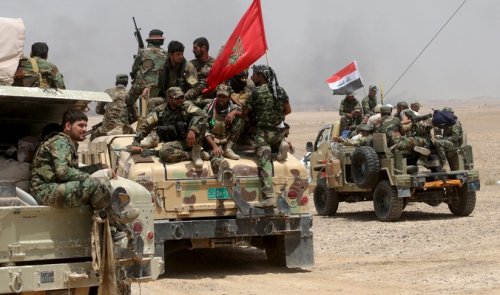 Anbar / Sky Press:
A security source said on Saturday that the elements Daash fully and suddenly pulled out of Fallujah, west of the number of regions.
The source told "Sky Press" that "the security forces and clan managed to free peasant areas and Allabsp and Alajafh and Nasaf, west of Falluja, noting that the security forces killed and wounded a large number of terrorist Daash.
The source added that Daash gangs pulled out completely and abruptly areas despite the false promises of resistance and to address the security forces.
And a security source said on Saturday that the security forces and the crowd were able to edit tribal regions Subaihat and peasant west of Fallujah.
Announced the commander of the Anbar Operations Maj. Gen. Ismail Mahlawi, Saturday, for the start of liberalization and the regions of peasant Subaihat west of Fallujah process supported by the sons of the tribes.
And the arrival of Defense Minister Khaled al-Obeidi to the west axis of the city of Fallujah for the developments of the battle.
The security forces and the popular crowd and engaged in fierce battles in Fallujah to eliminate Daash gangs controlled since last year.
skypressiq.net