Maliki proposes to abolish the results of the two sessions, and the dismissal of the presidency
Maliki proposes to abolish the results of the two sessions, and the dismissal of the presidency of parliament to vote on government
Published on: 5-18-2016, 14:51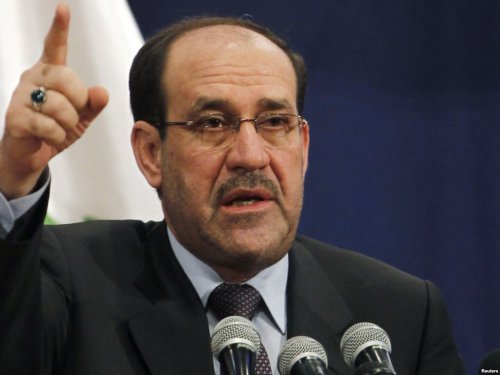 BAGHDAD / Sky Press: Mary finest
Proposed by the Secretary General of the Dawa party and the leader of a coalition of state law, Nuri al-Maliki, Wednesday, to cancel the results of the two sessions, and the dismissal of chairman of the parliament vote on the government.
Maliki said in replying to reporters' questions directed to him on the social networking site over the next horizon for the House dissolution crisis and overcome the challenges facing the country and the position of them, he was "in order to activate the call that we have delivered to different from both teams in the House call upon the parties to agree on Cancel results of the first and second sessions and outputs and the House of Representatives resumes its sessions again temporary management to be agreed upon. "
Maliki urged the Federal Court to "take it upon themselves to resolve the issue of the Presidency and the ministers dismissed and appointed," noting that "this solution is the best we have because it reflects the will of the self."
Maliki called the Federal Court that "takes into account these solutions to end the current crisis."
The Federal Supreme Court announced on Wednesday, the identification of the twenty-fifth day of May as the date to consider the current proceedings brought on the challenge to the constitutionality of two sessions of the House of Representatives.
The cleric Moqtada al-Sadr accused, on Tuesday, the Iraqi government to "deficit" for the protection of the people after the "stolen all its wealth," promised that the recent bombings "proof of it," as he emphasized that "every drop of blood takes place in this month but is watering the tree of freedom, peace and will not go in vain, "he threatened to" retain answer for himself. "
Baghdad has seen a serious deterioration of security in the past few days after a series of explosions rocked a popular market in the capital that killed dozens of civilians were among the dead and wounded, at a time when the political blocs demanded the removal of the commander of Baghdad operations, and blame for security breaches in the capital
skypressiq.net