These five conditions set by the Kurds in exchange for their return to Baghdad
These five conditions set by the Kurds in exchange for their return to Baghdad
Views: 4375 Published on: 5-9-2016, 12:07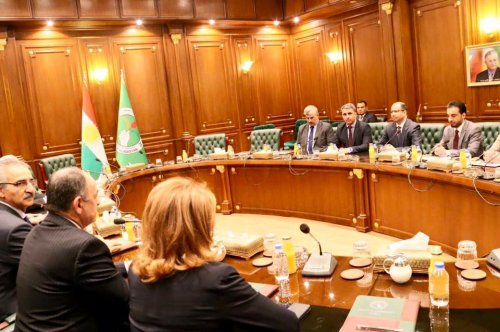 BAGHDAD / Sky Press: Areej al-Taie
Informed sources revealed, Monday, the five conditions put the Kurds in exchange for the return of their ministers and their deputies to Baghdad.
The sources said in remarks to Arab media outlets seen by "Sky Press," "The Kurds have put five conditions in exchange for the return of their deputies and their ministers to Baghdad, where he exceeded the requirements to pay salaries of the Peshmerga, staff or increase the financial stake, to give the Kurds the electoral entitlement as befits their component second in Iraq, as well as giving them a greater role in political decision-making. "
The sources, that "the Kurds demanded that al-Jubouri provide guarantees of non-repetition of what happened, to break into the Green Zone and the parliament building and the attack on the House of Representatives and make an apology for them, in addition to solving the financial and economic problems of the relationship between the center and the region."
He said more than one deputy from the Kurdistan Alliance that "without a decision by the Kurdish leadership, there will be no return of Kurdish MPs and ministers to Baghdad."
In this context, the MP said Hoshyar Abdullah, said that the "lack of Kurds return to Baghdad, a done deal, ruling out his return during the coming days or weeks.
It is noteworthy that the first deputy chairman of the parliament Aram Sheikh Mohammed and Naiptin Kurdistan Alliance Alaa Talabani and Rankin Abdullah were taken to Arbil military plane after being beaten by protesters when breaking into the Green Zone.
The Sadrist protesters stormed in, (4/30/2016), the House of Representatives building in the green dotted Baghdad to protest the lifting of its meeting until next week without a vote on the complete cabinet reshuffle, and assaulted some of them on a number of MPs,
skypressiq.net