This detail … see Allawi's coalition to resolve the crisis in the country
This detail … see Allawi's coalition to resolve the crisis in the country
Published on: 05-05-2016, 09:47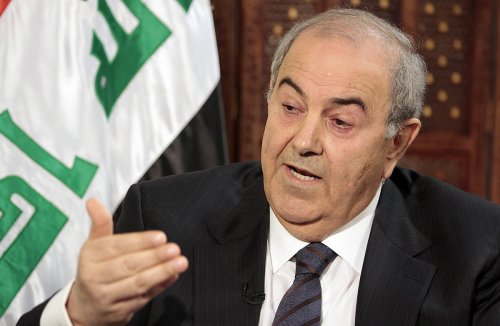 BAGHDAD / Sky Press: Mary finest
Revealed the national coalition led by Iyad Allawi, on Wednesday, his vision of the nature of the National Salvation government proposed by some political parties as a solution to the current crisis in Iraq, stressing the importance of the abolition of the current election commission and replace it with another, completely independent.
The coalition said in a statement received "Sky Press," that "it is put to the political arena in Iraq to take it out of its crisis stifling is the formation of a national salvation government. In turn, explains the National, this was the Iraqi people, decent choice and we certainly we will be with him."
"The national salvation government to be a provisional government for exceeding the age of a year or year and a half maximum of its members do not participate in the elections."
He pointed out that "the functions of the government are limited with double two main mobilizing the forces of the Iraqi people against extremism and terrorism, and sustain the battlefield momentum against Daash until check military and political victories and begin to correct the political process structure to cancel the sectarian quota system as well as the marginalization and exclusion and treatment of displaced persons and refugees and compensation problems."
He also holds the "Start Reconstruction what was destroyed, and to move the national treatment to restore peace, safety and welfare, and the issuance of amnesty laws necessary and achieve the unity of Iraqi society and solving problems between the federal government and the Kurdistan Regional Government."
With respect to the second axis national coalition he confirmed that he is focused issue of "Cancel Independent Electoral Commission and its extensions in all provinces, and replace it with another, completely independent, composed of legal experts and lawyers and specialists."
He also pointed to the importance of "a new election law ensures justice and fairness and respect for the will of the voters of Iraq," adding that it is "in coordination with the United Nations and the League of Arab States and the Organization of Islamic Cooperation, to ensure free and fair elections."
The MP for the Bloc citizen Rahim al-Darraji accused, on Wednesday, Prime Minister Haider al-Abadi to "calamities head" for being the rule of the former with the same mentality that destroyed Iraq, calling for the formation of a new Shiite alliance headed by Ammar al-Hakim, leader of the Council.
The repercussions of breaking into the Green Zone, interact with the agencies responsible for protecting the Baghdad remains. In this context, the Interior Ministry announced that it bears no green storming process. The ministry said in a statement that «the Ministry of Interior does not assume responsibility for the security of the capital and the region's vital« green », but the direct responsibility lies with the Baghdad Operations and own band charged with protecting the Green Zone.
skypressiq.net