Hanan al: Abadi asked Jubouri arrest us and the room was abuzz with cheers
Hanan al: Abadi asked Jubouri arrest us and the room was abuzz with cheers
Published on: Today, 15:31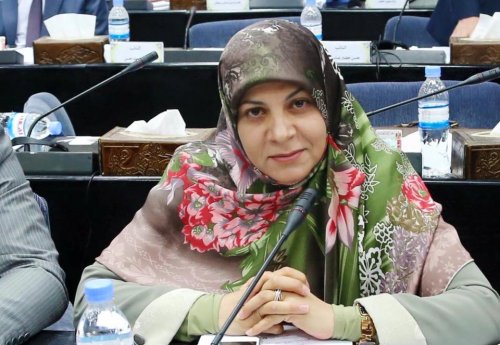 BAGHDAD / Hassan Shammari:
Revealed the head of the will of the Movement MP Hanan al, on Tuesday, on the request of the Prime Minister Haider al-Abadi of House Speaker article arrest the House of Representatives of the protesters, as pointed out that the hall abuzz with chants of "Aebadi overland by road," and other slogans.
Wrote Fatlawi on its front page on "Facebook" and seen by "Sky Press," that "the hall abuzz with Aebadi overland Bern, Salim overland by road, Hammam overland by road, Aram overland by road," adding that "the hall reverberated with chants of" failed failed failed plot on the people, the monuments and illegitimacy revolution reformist revolution, vanity is vanity. "
As Fatlawi published a pamphlet last, saying that "Abadi asks Salim arrest us."
According to a parliamentary source said on Tuesday, that the House of Representatives of the protesters were beaten, Prime Minister Haider al-Abadi to "water bottles", as he pointed to a verbal altercation between lawmaker Kazem Sayadi one to protect the Prime Minister.
The head of parliament article Salim al-income, on Tuesday, the House of Representatives to protect the central hall is too intense, and ascended the platform Presidency of the Council of Representatives in session to be held, while the House of Representatives sitters shouted "no legitimacy and drops idol."
As I used the power of the Kurdish Peshmerga, a number of journalists who were inside the House of Representatives, and exceeded verbally abusive on Iraqi state television team.
skypressiq.net