Tomorrow .. US secretary of state in Baghdad and why?
Tomorrow .. US secretary of state in Baghdad and why?
Published on: Today, 14:40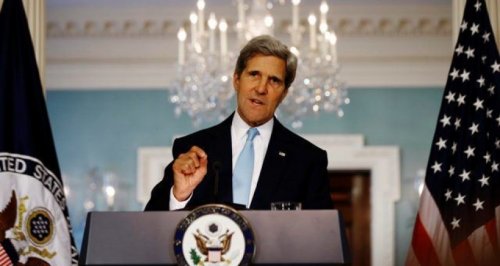 BAGHDAD / Sky Press: Areej al-Taie
Early Thursday, the source reported that US State Secretary John Kerry will arrive in Baghdad on Friday for a short visit one-day visit.
The source said in an interview with "Sky Press," that "Kerry will meet during his visit to Baghdad, Prime Minister Haider al-Abadi and senior government officials to discuss the security file and fight Daash as well as new file cabinet reshuffle."
The source, who asked not to be identified, said, "This visit comes as part of the military and political support that the United States provided for Iraq in its war against terrorism, on the other hand, is this visit to support the file of reforms, according to some officials in Congress and the US government's statements."
A statement by the Prime Minister's Office, said that "al-Abadi received a telephone call from US Vice President Joe Biden, was to discuss the positive developments on the political and security front and the progress of the Iraqi forces in the fronts of confrontation against Daash gangs and terrorist preparations are under way to complete the liberation of all of Iraq's land and restore the displaced."
It was also during dial-up review of the importance of providing the required political stability to rally international support for plans for economic reform and overcome the financial challenges, stressing that Biden reiterated US support for Iraq at all levels.
The source pointed out, that "the government and political delegation of Kurdistan, headed by President of the Region Government Nechirvan Barzani, will arrive in Baghdad on Friday to meet with Kerry, awaited his arrival to Baghdad at the same time."
skypressiq.net