WikiLeaks exposes US funding for "documents Panama" for an attack on Putin
WikiLeaks exposes US funding for "documents Panama" for an attack on Putin
Published on: 06/04/2016, 17:48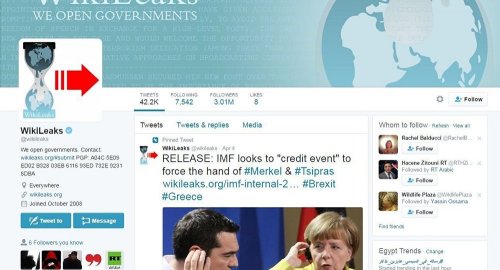 BAGHDAD / Sky Press:
Site "Wikileaks" unveiled a private scandal to "Panama documents" related to leaking the documents the company "Mossack Fonseca", where the site confirmed that these documents were directly funded by the US government and the American billionaire George Soros disclosed.
The site "Wikileaks" through his account on the site "Twitter" mail that leaking data that indicate the involvement of a number of representatives of the political elite in the world in illegal financial networks operating in tax havens (Offshore), was in fact directed an attack against Russia, specifically against President Vladimir Putin.
According to a tweet published by "Wikileaks" on "Twitter", Wednesday, April 6 / April: "A project to monitor organized crime and corruption attack" Panama papers "against Putin. The target of this attack Russia and former Soviet republics, and are funded by the agency" Aoseid "(agency international development of America) and Soros. "
And it confirms the "Wikileaks" that "leaves Panama" project received direct funding from the US government.
In another tweet, he went on "Wikileaks", saying: "Maybe the American project to monitor organized crime and corruption a good job, but receiving direct funding from the US government to launch an attack" Panama papers "on Putin, raising doubts about his integrity."
He also drew "Wikileaks" Keep in mind that more than three thousand legal personality and natural mentioned in Panama leaves, residents in the United States, while the lives of more than 9 thousand legal and natural persons that named in the papers, in Britain.
In this context, Kristen Jarafsson spokesman "Wikileaks" he stressed in a statement to "RT" on the need to complete the database that were leaked by an anonymous hacker from the company "Mossack Fonseca", rather than publish excerpts of which selectively deploy.
It is noteworthy that many of the world's media published Sunday, April 3 / April, an investigation based on 11.5 million and a leaked document containing information about the involvement of current and former leaders in the world in the smuggling and money laundering.
The International Federation of the investigative journalists who take from the Washington-based, will prepare an inquiry on the basis of what has been called the "Panama papers", which documents said to have been smuggled from the company "Mossack Fonseca", which provides legal services to record companies in tax havens "safe" (Ofushor ). But the company refused to confirm the subordination of the documents to them.
The Union has established a special website to "Panama papers." And on the first page in the site published an article under the title "They are all men: Putin confidential data reveal associated with the Russian leader, financial network," and in spite of the absence of Putin's name in any of the documents. And it stems investigators in their conclusions, which said about the friendship between Putin and Russian businessmen who were clients of the company "Mossack Fonseca".
skypressiq.net