Detail .. Washington's moves to "save" Abadi al-Maliki meets US ambassador
Detail .. Washington's moves to "save" Abadi al-Maliki meets US ambassador
Published on: 04/04/2016, 11:43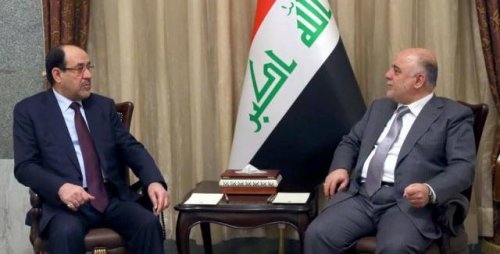 BAGHDAD / Hassan Shammari:
It revealed an alliance of Iraqi forces, on Monday, for the imminent arrival of US delegations to Iraq in an effort to prevent the overthrow of the Prime Minister Haider al-Abadi, while the leader of the coalition held state law, Nuri al-Maliki meeting with the US ambassador in Baghdad.
Quoted the Lebanese newspaper "The News" in a report seen "Sky Press," the excerpts from the close of the coalition, a political source said, "The US president's envoy for the international coalition Brett Macgork will arrive in Baghdad in the coming hours for this purpose."
The newspaper pointed out that "the former prime minister and prominent leaders of the coalition of state law, most notably on the writer and Hussain al-Shahristani, held yesterday evening, held a meeting with the US ambassador in Baghdad, Stuart Jones, to coincide with the arrival of a congressional delegation to Baghdad today, where he will meet party Iraqi parliamentary.
Abadi appeared in a strong position, it has downplayed the significance of the withdrawal of the Kurdish candidate for the oil ministry Nizar Salem, stressing the possibility of replacing the retreating other candidates. A spokesman for al-Abadi, Saad al-Hadithi, said that the withdrawal of some of the candidates does not represent a big problem … and it's no problem to replace some of the candidates, if there were real notes on them.
New mentioning that the head of the Iraqi Islamic Supreme Council Ammar al-Hakim said on Monday, the initiative for national reform to save the situation in the country, while the initiative included the importance of the formation of the National Security Council includes several characters Obozorha presidents, ministers, parliament and the judiciary, as well as a coalition of law Nuri al-Maliki, leader Moqtada al-Sadr, and Iyad Allawi, Osama Najafi, Saleh al-Mutlaq.
skypressiq.net