Vice reveals unload money banks inside the Green Zone for fear of protesters
Vice reveals unload money banks inside the Green Zone for fear of protesters
Published on: 28/03/2016, 12:38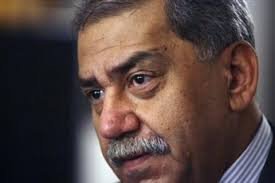 BAGHDAD / Sky Press: Areej al-Taie
The chairman of the Civic Democratic Alliance bloc Mithal al-Alusi, Sunday, for unloading money banks inside the Green Zone for fear of protesters in the event of incursions into the region.
Alusi said, "it was a dump money banks Iraqi Commercial Bank inside the Green Zone by the managers and workers in them to accuse the protesters of stealing the money in the event of breaking into the Green Zone."
He said he, "is not entitled to the director of the bank and the Prime Minister to clear the banks of money," attributing the cause to "It's a signal to topple the government and the state."
Alusi said, "The workers in those banks wishing to enter sitters to green to accuse the protesters and the protesters that they stole that money."
He pointed out that "free of money banks because of the fear of the demonstrators argument This is a clear and offensive accusation against them," calling "Prime Minister Haider al-Abadi to" attention on what is happening in these banks. "
The cleric Moqtada al-Sadr, has threatened to storm the Green Zone in Baghdad, if you did not make real reforms.
The cleric Moqtada al-Sadr, called on the protesters to stay in front of the Green Zone gates and not left.
skypressiq.net