Cuban President prevents Obama put his hand on his shoulder
Cuban President prevents Obama put his hand on his shoulder
Published on: Today, 15:43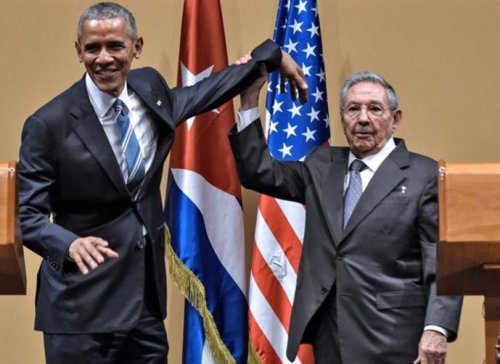 BAGHDAD / Sky Press: by trying to emulate US President followed with the rest of the international leaders approach, patting on the shoulder of his Cuban counterpart Raul Castro, Obama has suffered a great embarrassment, because Castro refused intention to patting on his shoulder as he does with others.
Video detection, Obama tried after the joint press conference that the pat on the shoulder of Castro, but the latter repel the attempt, by raising Obama's hand instead, and Cuban President not stop at this, but repel each Obama's attempts to put his hand on his shoulder, and tried to make Obama forward so as not to reach his goal, but it was not yet known, what is the reason for the ban! Is Obama will go back on this tradition with the heads of state in the future after this embarrassment that I ask a lot of ink, or will cling to him though?
From apparent that Obama and Castro in the history of shaking hands and patting which often provoke controversy, where he witnessed a giant memorial service of justice, freedom, Nelson Mandela, two years before the historic handshake between the leaders of a sudden the two oldest enemies, Obama and Castro.
US President Barack Obama stunned the world shook hands with Raul Castro, president of Cuba during the memorial service for Nelson Mandela concert in Sweet, and formed a handshake between Obama and Cuban President Raul Castro on the official big surprise podium,
The Obama extended his hand to shake hands before heading to the podium to deliver his speech at the ceremony, in a new sign of his willingness to continue with the enemies of the United States.
skypressiq.net