Detail … establishment of the first US base in Iraq since 2014
Detail … establishment of the first US base in Iraq since 2014
Views: 1277 Published on: 22/03/2016, 11:18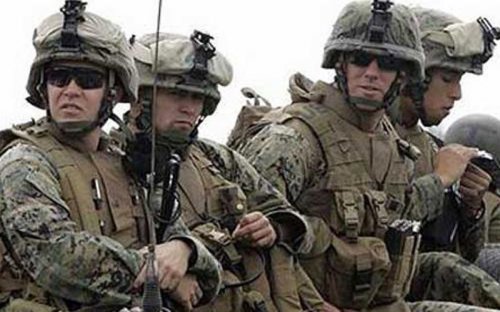 BAGHDAD / Sky Press: Mary finest
Announced the US Department of Defense, "Pentagon", new details of the US military who died Saturday Almadi, in an attack by the organization Daash Alarhabiy, as revealed for the first time that the attack was aimed at a new military base in northern Alarac, is the first independent US base in this country since the return of US troops to him in 2014.
The military official said, that this rule Aljdidh, which bore the name "Vairbez Bill" (ie, the center of artillery) ,tardt to a new attack by al Daash, what killing two of the attackers were killed.
A spokesman for the "international coalition" forces to fight al Daash, Colonel "Steve Warren," The terrorist organization Hajm, Saturday Almadi, base "Vairbez Bill" US Altdh, Ogira, created in his "drunken", located between the cities of Mosul and Kirkuk, , northern Iraq.
And about the reason for the establishment of the base, "Vairbez Bill," which is the latest sign of the deep involvement of the US military in fighting Balarac, explained, "Warren," in a meeting conducted by videoconference from Baghdad with reporters in Ashentun, that "thousands of Iraqi forces carried out a few weeks ago occupy a tactical rally in Mkhmur, site and that was part of the preparation of troops to participate in the liberation of Mosul process scheme.
He added that Iraqi forces were accompanied by advisers from the "international coalition" forces in order to provide them with proper training them :, following up the Iraqi forces and advisers "international coalition" they need a protection force "So we have created a small combat base for this purpose (Vairbez Bill) base, before two weeks Tgariba, began as a small group of the twenty-sixth unit of rapid intervention forces to the US marine Corps (Marines) to move to the base established Hditha, which is located 112 kilometers southeast of Mosul.
He pointed out that the rapid intervention group task was "to provide protection to advisers coalition and Iraqi forces," adding that their presence at the base of "Vairbez Bill" was "at the invitation of the Iraqi government and in coordination with them."
And he continued his narrative for Hadt, saying the organization "Daash" launched Saturday Almadi, missile attack "Katyusha" on the base, "Vairbez Bill", which led to the death of a Almarinz, elements of a sergeant Marines "Luis F. Cardin", four others were wounded. "
He pointed out that the population of force "Marines" located in fighting al-Qaida Aljdidh, that were Hjum, is "less than 200 fighters," asserting that these forces remain for the duration of stay of American advisers Bragafh Iraqi forces in a drunk and that the role of the Marine Expeditionary Force, this is limited to only protection and not allowed to engaged in the absence or Iraqi security threat to US forces in the camp.
skypressiq.net