Sources reveal the government wanted al-Sadr was placed under "house arrest"
Sources reveal the circumstances of yesterday's events .. the government wanted al-Sadr was placed under "house arrest"
Views: 8253 Published on: 04/03/2016, 10:44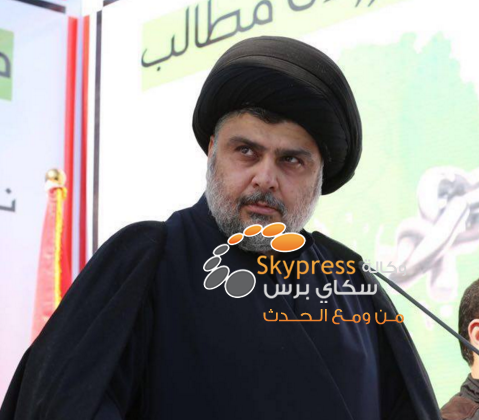 BAGHDAD / Noor Alhatri
Informed sources revealed on Friday for a failed attempt for the Iraqi government to impose house arrest on the cleric "Muqtada al-Sadr," when he arrived in Baghdad to take part in a demonstration today.
The sources for "Sky Press" that "Mr. Muqtada arrived late Thursday evening to the city of Kadhimiya to participate in the demonstrations today plaza Tahrir to demand a change of government and bring out the spoilers, which already called her and threatened green stormed, but the Kadhimiya city cordoned off by the security forces in attempt to restrict the movement of cleric Moqtada al-Sadr and restricting its presence in the region. "
She added that at the same time, the Sadrist delegation confers near the Green Zone with government officials about the demonstrations today and sudden got when they were told that the government did not issue approval for the demonstrations, which angered al-Sadr, which supporters called on them to go out late at night on Friday and head to the Green Zone in waiting for a signal from their leader to storm it at the time of Sadr city in eastern Baghdad sons met their leader, chanting that they at his disposal. "
Which it called on the government to reverse its decision after seeing crowds heading to the Green Zone threatened Bakedzahaa.
Experiencing the capital Baghdad today tense security atmosphere after a night in which the two sides did not sleep Mmadea Bgdat operations to cut off roads leading to the center of the capital and the imposition of tough measures.
Mr. Muqtada al-Sadr warned in an earlier statement, the Government of Abadi and gave it 45 days to form a government of "technocrats", with the plate to resort to the option of withdrawal of confidence from the last government in the event of failure to do so.
As al-Sadr threatened through his address in Tahrir Square, in last Friday while he was with the demonstrators, broke into the green zone to eliminate the rampant corruption in government
skypressiq.net