After withdrawing its troops .. America put sensitive devices in the Mosul Dam and Stahedh "whenever you want."
After withdrawing its troops .. America put sensitive devices in the Mosul Dam and Stahedh "whenever you want."
Views: 3104 Published on: 03/03/2016, 13:44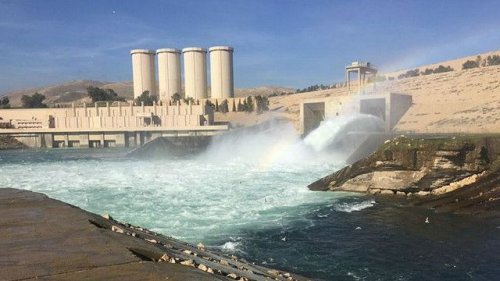 BAGHDAD / Sky Press: Areej al-Taie
A security source revealed, on Thursday, for sensitive devices, which put the Americans in Mosul Dam, which might cause disaster in the collapse of the dam at any time determined by the United States.
A source in the federal police, said that "America has withdrawn many of its troops stationed in Mosul Dam, after being put sensitive devices near the dam are working remotely."
He continued, that "America will use these devices as a pressure, in case of failure to respond to any request by the wish will Bhd dam through these sensitive devices."
The Committee on Agriculture and Water, United States of America the two preceding and the two governments accused of failing to find solutions to the problem of the Mosul Dam, after the solutions that person US Corps of Engineers in 2007, the dam as the most dangerous dam in the world.
Committee Chairman Furat al-Tamimi, said that "the US Corps of Engineers people in 2007 Mosul dam as the most dangerous dam in the world and could have the US administration and the previous two governments to find a permanent solution to this problem if there was a deliberate effort to address the issue."
The top US military commander in Iraq warned Thursday of possible collapse of the Mosul dam in northern Iraq, noting that the US military has a contingency plan to cope with the disaster.
skypressiq.net