These names are chosen by al-Abadi to form a government of "technocrats"
These names are chosen by al-Abadi to form a government of "technocrats"
Views: 4782 Published on: 01/03/2016, 09:30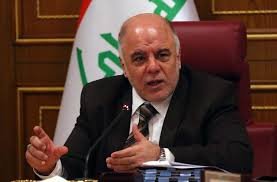 BAGHDAD / Hassan Shammari:
Revealed high-level source, on Tuesday, the names chosen by the Prime Minister Haider al-Abadi to form a government of "technocrats", as he emphasized that the latter kept the eight ministers from the previous selection.
The source said in an interview with "Sky Press," that "Abadi choose the leader of the Patriotic Union of Kurdistan, Barham Salih, Minister of Foreign and Jawad al-minister of the interior," explaining that "the prime minister chose Mustafa Kazmi head of the intelligence service."
He added that "al-Abadi chose Nuri inattentive defense minister, and legal adviser Ahmad Abadi, Minister of Justice, in addition to selecting Isam Chalabi as oil minister."
The source, who requested anonymity, that "the Prime Minister chose strategist Lt. Gen. Wafiq al-Samarrai adviser for national security, and Ali Shukri and minister of planning," pointing out that "Abadi will keep the eight ministers from the previous selection."
The senior source revealed Saturday (27-2-2016), on the recommendation of the Committee evaluating the current ministerial cabin, the removal of nine ministers, current, including Tariq Kikhany, Construction and Housing, and Haider al-Zamili, Justice, and Mohsen al-Shammari, water resources, and Adila Hammoud, health as well as Ibrahim al-Jaafari, Foreign Affairs. "
The source pointed out that "there are current ministers will change their bags, including the Minister of Higher Education and Scientific Research, Hussain al-Shahristani."
The coalition of state law, has revealed in (the 23 of February, the current 2016), about the existence of a committee of academics and consultants from various ministries, to help the prime minister, Haider Abadi, in the selection of the new ministerial cabin, while the citizen bloc called on to display the Committee on the political spectrum to keep "doubts" on them being on the one hand, suggested that the Kurdistan Alliance, the abolition of the ministries that were transferred its powers to the provinces for the new cabin includes 14 ministries only.
The leader of the Sadrist movement, Muqtada al-Sadr, presented in (the 19 of February, the current 2016), a list of independent Iraqi figures whose mission would be to form a committee to choose a new ministerial cabin, warning that non-acceptance of the political blocs that will be followed by "other steps".
The Prime Minister Haider al-Abadi, called in (the ninth of February, the current), to conduct a cabinet reshuffle, "a fundamental and comprehensive" out of national responsibility, while the detection of the completion of the preparation of a plan for reducing its ministries, counting that the government "succeeded in crossing the most difficult stages "during the last term.
skypressiq.net