State law meets the counsel of advocacy and the most prominent al-Maliki for prime minister
After chest threats .. state law meets the counsel of advocacy and the most prominent al-Maliki for prime minister
Published on: 27/02/2016, 13:01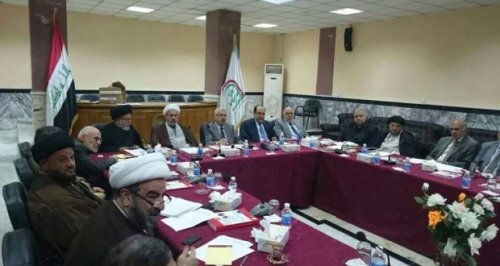 BAGHDAD / Sky Press: Mary finest
Political source revealed early on Saturday for the meeting of the members of the coalition of state law with the Shura Council, the Dawa Party to choose a replacement for Prime Minister Haider al-Abadi, stressing that the Secretary-General of the Dawa Party, Nouri al-Maliki, the most prominent candidate for the presidency.
The source told "Sky Press", "The meeting came after the cleric Moqtada al-Sadr threats in which he stressed the need to be substantial reforms and radical Bouklavha will be switched Prime Minister Haider al-Abadi another Lech condition to be from the Dawa Party," pointing out that "the Party Dawa began to meet with him, while some of them went to the neighboring countries to keep to be a prime minister to them. "
He added that the "coalition of the rule of law held a meeting with Shura Dawa Party Council to choose a replacement for Prime Minister Haider al-Abadi," noting that "the secretary-general of the Dawa Party, Nouri al-Maliki was the most prominent names that have been nominated for not succeeding Ebadi or his representative."
He noted that "the Dawa Party, fear the power go, especially as they believe that their strength lies in maintaining power," noting that recent conferences held by the Dawa Party, not abandoned some of the plots. "
The leader of the Sadrist movement, Muqtada al-Sadr threatened on Friday to "break into" Green Zone (government headquarters), stressing that Prime Minister Haider al-Abadi has become a "test."
It is said that well-informed sources revealed on Friday reported a quarrel between Prime Minister Haider al-Abadi and cleric Moqtada al-Sadr during the reunion at the threshold of Kadhimiya, while confirming that Sadr's speech today in Tahrir Square, the threat of "padded" to Ebadi.
The Prime Minister Haider al-Abadi, rejected on Saturday the language of "the threat to overwhelm" the Iraqi state apparatus, criticizing the political parties, "the powerful", which calls for the fight against financial and administrative corruption in the departments and institutions of the state and at the same time is committed to participating government and impose its ministers and blocs.
skypressiq.net