Rudy Giuliani: Islamic State 'is an Obama creation'
Rudy Giuliani: Islamic State 'is an Obama creation'
By Jessica Chasmar – The Washington Times – Wednesday, November 18, 2015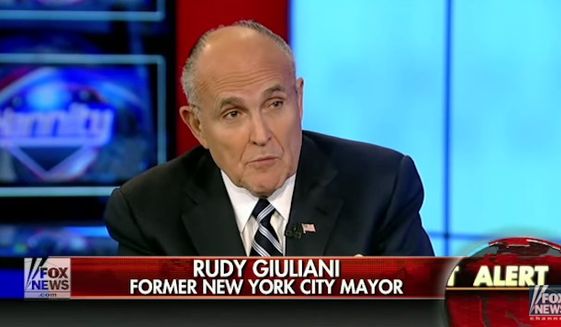 Former New York City Mayor Rudy Giuliani argued Monday that the Islamic State terror group has been able to thrive in the Middle East due to President Obama's "vacuous" foreign policy.
"This has been a very difficult weekend for me, because it brings back September 11 and all the terrible memories I have of it," the former Republican presidential candidate said of the Paris terror attacks during an interview on Fox News' "Hannity."
"And the thought then, when President Bush acted so decisively and so quickly, that maybe something like this wouldn't happen again," Mr. Giuliani said. "And the reality is, this did not have to happen if our policies were different. If President Obama had listened to Sen. McCain and Sen. Graham and a whole group of other people and had set up a no-fly zone in Syria five years ago, if we had gone in and we had worked with the Syrian legitimate rebels, if we had not taken our troops out of Iraq and Afghanistan, [the Islamic State] never would have emerged.
"ISIS is filling a vacuum created by a vacuous foreign policy," he said, referring to the terrorist group by its acronym. "ISIS is an Obama creation. This would not have happened."
Mr. Giuliani went on to explain that President Obama stripped the U.S. military's ability to collect intelligence on the Islamic State by pulling troops out of Iraq.
"Once you take your troops out, we have no resources, we have no real access," he said. "Here's the simple fact, and this goes back to President Bush, some American president has to hold a speech at night and say to the American people 'we have to be in the Middle East until the threat against us is over, just the way we were in Germany, just the way we were in Italy, just the way we are now in South Korea.'"
washingtontimes.com