Move supports Abadi and denies the existence of any talks with the Americans
Move supports Abadi and denies the existence of any talks with the Americans
Published on: Today, 17:39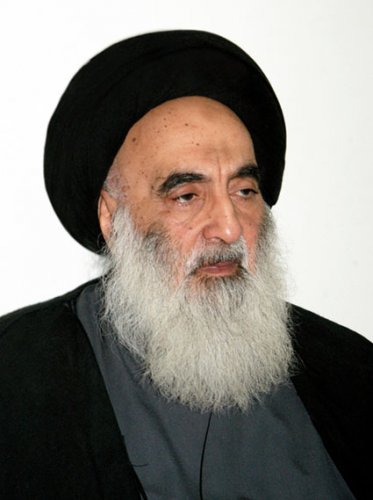 Sky Press: Follow-up / Doors reference news
Office denied Samaha Sheikh Qassem al-Asadi, representative of the supreme authority in Najaf on Tuesday, the existence of talks between the highest religious authority Ayatollah Ali al-Sistani had with a US delegation for the nomination of a new prime minister of Iraq.
He said Sheikh al-Asadi's office told the doors of reference news "that" Matnaqlth some Arab media and Western on the existence of talks between Mr. al-Sistani and the Americans for the nomination of a new prime minister is supported by reference Najaf untrue, "explaining that" Mr. Sistani, one of the strongest supporters of Prime Minister Haider al-Abadi and see The reforms are the right way. "
This "Gulf sources revealed that the Gulf Cooperation Council states, led by Saudi Arabia plans to join Iraq to membership of the Council in order to remove him from Iranian influences."
The sources expected "a change in the equation in Iraq through support of Washington and the Gulf states for a new government in Baghdad away from Iran in return for annexation of Iraq to the GCC."
The Gulf sources told the newspaper / public / "The Americans cut off a long way in the talks with the religious authority, the Shiite Ali al-Sistani, and offered through the nomination of a new prime minister backed authority in Najaf to be within the government formation process make significant changes to Iraqi politics." .
According to sources, "the changes include moving away from the Iranian axis in the Gulf in exchange for supporting crucial to restore the unity and sovereignty of Iraq and the elimination of the terrorist organization Daash, and the establishment of a national reconciliation on a sound footing ends with the current screening sectarian divide in Iraqi society."
The "Iraq had sought since the nineties to join the Gulf Cooperation Council to remain within the Arab system, which was a position that the Arab countries remain in a better position, and Iraq is able to take advantage of the tremendous growth witnessed in these countries to move Iraq from war phase to the stabilization phase within its Arab system and build its infrastructure landmarks, but the Gulf states at the time rejected the offer even before Iraq's entry into Kuwait in 1990.
skypressiq.net