Experts are calling for the adoption of plans in the financial sector
Experts are calling for the adoption of plans in the financial sector
23/06/2015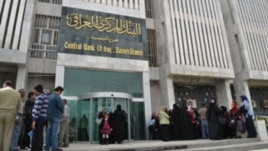 Economists called to face the challenges and obstacles facing monetary policy in Iraq, the adoption of strategic plans contribute to the advancement of the financial sector in the country.
He said the Securities Commission Chairman Abdul-Razzaq al-Saadi said in an interview with Radio Free Iraq that the lack of consistency of monetary and fiscal policy has led to the accumulation of money supply in the Iraqi market, which reflected negatively on the reality of the Iraqi economy.
While expressing financial expert Majid picture belief that the political and security situation, whether on the local or regional level, impacted heavily on monetary policy in Iraq.
For their part, stressed citizens interviewed by Radio Free Iraq and they will fluctuate because of financial conditions in Iraq are not trust policy pursued by the Central Bank of Iraq, especially after the recent crisis in the market and that led to the rise of the dollar against the Iraqi dinar.
It should be noted Analdstor Iraqi stipulates that the Central Bank of Iraq shall formulating monetary policy of the country and cooperate with other official bodies to implement those policies.
iraqhurr.org