The application of Article 140 in the disputed areas after editing
The application of Article 140 in the disputed areas after editing
03/06/2015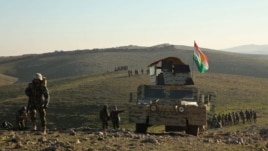 The Iraqi government announced measures that will begin to apply Article 140 constitutional disputed areas, if the elimination of the "Daash" in those areas.
He said government spokesman Saad newborn in an interview with Radio Free Iraq that end stuff File 140 in a short time seems to be difficult because of the presence of armed groups in those areas, adding that the government curriculum, which was formed on the basis of the current government spends decisively Article 140 to be subject to constitutional provisions political consensus.
As MP for the PUK governor Saman indicates that the application of Article 140 of constitutional disputed areas not affected by the presence of the organization Daash in those areas, stressing that the peshmerga forces working to liberate those areas from the hands of the organization Daash.
For his part, sees MP for the Iraqi coalition forces Abdel Azim Ajman al Daash create a new reality in the disputed areas, stressing the need to deal with this reality is consensual.
With warns political analyst Jassim al-Moussawi, the difficulty of geographical overlap between the provinces, which could lead to ignite internal war, according to his opinion.
The head of Iraq's Kurdistan region Massoud Barzani announced earlier obviate the need for the application of Article 140 of the Constitution of the disputed areas, and stressed that these areas are part of the Kurdistan region after entering the peshmerga forces there after the fall of the city of Mosul last June.
iraqhurr.org