CBI pulls smaller paper currency
CBI pulls smaller paper currency
01/03/2015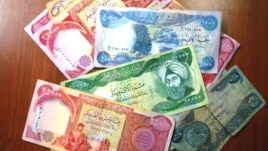 Iraqi Central Bank decided to smaller paper currency which is the withdrawal of 50 dinars value of trading after it no longer needed due to the low value and stop circulation, as well as the lack of acceptance in the banks. Said an official statement issued by the Central Bank that citizens can switch possession of Banknotes fifty dinars category in government banks.
In an interview with Radio Free Iraq, economic advisor to the prime minister the appearance of Mohammed Saleh pointed out that fifty-class dinars were printed after 2003, but an increase in the rate of inflation in 2006 after raising fuel prices has led to the erosion of the currency and the difficulty of trading them to become the 250 dinars smaller category paper currency at the moment.
He said economic expert Hilal Taan that inflation witnessed in Iraq led to the extinction of most of the small coins of the fifty-class dinars and 100 dinars, and become the 250 smallest currency and thus the government is forced to destroy the small coins. He expressed his opposition Taan printed currencies of large groups because this will lead to price hikes and a decrease in the value of the Iraqi dinar "because inflation based in Iraq comes because there is a large cash currency."
As an economic advisor to the prime minister called for the appearance of Mohammed Saleh to the need to print large coins for circulation in the market, considering it of health phenomena and noting that Iraq is in the monarchy printed currency 100 dinars worth the time, "as there are coin 500 euros, equivalent to more than 600 US. "
Saleh also said he "was supposed to delete the zeros from the currency, a project has been prepared in advance and prepared the floor, however, many reasons led to the postponement of an unknown time," pointing to "the need to reduce turnover in Iraq since the deal today talking about trillions while strive to be trading billions. "
Central Bank statement said that the time that the replacement of these banknotes will be which is among the first of March to 30 of April next, stressing that once the replacement period banknote will be null and void and will not be accepted in Iraq.
It is noteworthy that 50 dinars category is the smallest process paper of paper within the categories that also include 250 dinars and 500 dinars and a thousand dinars and 5 thousand dinars and 10 thousand dinars and 25 thousand dinars, which were issued after 2003 in the wake of the overthrow of the former regime.
iraqhurr.org