An invitation to reconsider issuing a new edition of the Currency
An invitation to reconsider issuing a new edition of the Currency
12/28/2014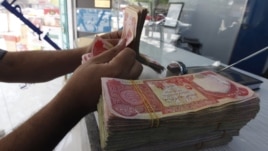 Called for an economist to reconsider a project to issue a new edition of currencies traded in the market.
The Abdul Rahman al-Mashhadani, in an interview with Radio Free Iraq believed that the Central Bank of Iraq will incur huge losses due to implementation reprint traded currencies security specifications of the project is believed to be of high quality, and then the project to delete the zeros in 2016.
The central bank began printing Banknotes new months ago, contain additional security signs make it difficult to counterfeit or manipulate them, and provide them with more efficient and safer technology specifications make it the longest-lived and the currency is difficult or impossible to forge.
Economic Adviser to the Prime Minister says the appearance of Mohammed Saleh, said that the importance of these projects makes it imperative for the government applied on the grounds that the currency is a strategic commodity and mission despite the large costs that will fall on Iraq.
And confirms a member of the Committee on Economy and Investment in the House of Representatives Najiba Najib on the need to postpone the project to delete the zeros Due to the intensity of the stability of the security and political situations in the country.
iraqhurr.org