Baghdadi: Detection of ghost employees (aliens) provides a billion dollars a year to the budget
Baghdadi: Detection of ghost employees (aliens) provides a billion dollars a year to the budget
12/20/2014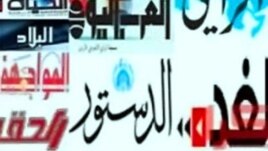 Sabah published a statement Presidency of the Council of Ministers on the dial, which took place between the Prime Minister Haider al-Abadi and US President Barack Obama, during which the review of the security and political situation in Iraq.
The statement said that President Obama expressed his country's readiness to provide logistical and intelligence and military support for Iraq in its war against terror Daash gangs.
In other news the morning quoted a government source as saying that the disclosure of ghost employees (aliens) provides a billion dollars a year to the budget.
The source revealed that 50 000 member and placebo in the Department of Defense provides up to a trillion and 200 billion dinars annually, noting that the Council of Ministers to form committees to look for other numbers of aliens in the ministries and other government institutions.
The newspaper of the time to go around, unlike external borrowing was behind the postponement of the House of Representatives of the special session, which was scheduled for Thursday to discuss the budget.
The members of the parliamentary finance committee to the government's intention to borrow $ 5 billion from the International Monetary Fund, the central bank pressed further "retrenchment" before heading for external borrowing.
The new morning confirmed that the joint forces of the army and the Peshmerga reinforced with tanks and armor Friday launched a massive attack on the city of Tal Afar in Nineveh province, with the aim of organizing Daash restored, and that the attack began after the bombing of the international coalition aircraft.
Mashreq newspaper quoted the Compensation Committee of the United Nations that it agreed to Iraq's request to postpone the payment of the final installment of the financial compensation to Kuwait for one year and praised the approval of the State of Kuwait on the request of the Iraqi authorities.
Zora newspaper quoted the head of the National Security Council of the region of Kurdistan Barzani said Peshmerga fighters succeeded in reaching Mount Sinjar and freed hundreds of civilians who were caught up in the organization and that the 100 members of the Daash have been killed.
Constitution newspaper quoted a political source described Balrfaa that a number of politicians and leaders of the Sunni tribes have offered to officials at the US embassy issue of forming a Sunni province, along the lines of semi-autonomous Kurdistan region Padrah.
Constitution and said that the province space seminal composition comprising the provinces of Diyala and Nineveh, Anbar and Salahuddin and regions in the south west of Kirkuk and in the southern and western and northern belt of Baghdad.
iraqhurr.org