The discovery of 75 000 fictitious name in the records of the Ministry of Interior
"Constitution" Baghdadi: the discovery of 75 000 fictitious name in the records of the Ministry of Interior
06/12/2014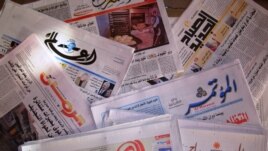 Sabah newspaper said the army and the support of the popular crowd forces said made further progress in its military operations aimed at purging Salah al-Din, and was able to secure the road to Baghdad country south of Tikrit and inflict Daash 48 people, including three Afghans and a Chinese one.
Revealed Baghdad edition of the Zaman newspaper for US-Iraqi agreement to grant US troops legal immunity.
The newspaper quoted the US ambassador to Iraq, Stuart Jones as telling obtain agreement between Baghdad and Washington that would grant immunity from prosecution for American troops.
Added Jones, according to the newspaper that is part of what will be signed between Iraq and the United States, the strategic framework agreement, promising at the same time the tribes by obtaining an integrated role with Iraqi security forces in the battle against Daash.
Al Mada quoted the Minister of Science and Technology Fares Yousef said the cabinet is close to ending the amendments to the accountability and justice law, to turn into a judicial file without neglecting what was caused by the outlawed Baath Party of crimes during the years of his rule, at a time when the Sunni coalition threatened not to vote if they stayed law in its current form.
He revealed to the Committee on Migration and Displacement in the House of Representatives member Joseph Saljoh the extent of secret agreements to delay the questioning of the House of Representatives President of the Supreme Committee for the displaced Saleh al-Mutlaq. He added that the political blocs Saljoh pressed the House of Representatives signatories to interrogate al-Mutlaq to withdraw many of them signed, hoping to re-try and collect signatures after the holiday Council.
Mashreq newspaper said Daash intends to launch chemical rockets on three Arab capitals of neighboring Iraq.
The newspaper quoted an Iraqi security sources said they were able to arrest two of two Arab al Daash confessed during investigations with them that the organization has planned to bomb three Arab capitals rockets land, a land laden with carrying chemical weapons was the organization may Gnmtha of camp (Ghazlani) in Mosul, in addition to a number of Gnmha rockets during fighting in northern Syria tenderness.
The newspaper quoted a source in the Constitution and the Interior Ministry described Balrfaa that audit committees revealed the presence of 75 000 fictitious name in the records of the Ministry of Interior.
The source revealed that the way in which detection associate ghost has been the adoption of the delivery last month salaries for officers and mattresses directly with rooming official Bagathm it, which made ​​it possible to detect the vast number of "aliens."
The source added that the Interior Minister Mohammed Ghaban ordered the arrest of the commander of emergency Regiment Baghdad sixth and a group of officers on charges of financial corruption in the regiment.
iraqhurr.org