Experts: failure to approve the budget impact negatively on the economy
Experts: failure to approve the budget impact negatively on the economy
16/09/2014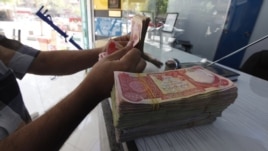 Barre parliamentarians and economists that the delay in adoption of the budget had negative repercussions on the economic reality of Iraq and that there is a real need to find quick solutions and radical in order to avoid mistakes of the previous phase Marjaheen adoption of the budget, especially in months remaining of the current year and review the expenses of the previous period through the accounts closing minutes.
And between a member of the House of Representatives beauty Muhammadawi that the Board form a parliamentary committee to expedite the review of the budget and put it on the agenda the first decisions that are supposed approval in the next few days with the possibility of follow-up as prime minister for the purpose of accelerating to send the budget after appropriate adjustments for the remaining months of this year.
Found a member of the Baghdad Provincial Council and former legal expert Dr. Abbas Aldhlki that failure to approve the budget law has had a very negative impact on development projects to the provinces to amend the law and is likely to be confined to the remaining months.
However, the expert financial and economic appearance of Dr. Mohammed Saleh surprised directions calling for the adoption of the budget the remaining months of the current year, adding that there is no longer a value to this year's budget and warning of the need to review the expenses of the war on terrorism and the Tab needs ministries and to reach a political solution in terms of disagreements center with the territory.
Ministries prepare their budgets for the
This has initiated ministries to prepare final lists for Srvyatea and Tkhmonadtha own schedules and put the general budget for 2015.
The head of the Interim Committee of the general budget Magda al-Tamimi said, "We hope that the end of the ministries to prepare their lists early next month of October in preparation to be sent to the Iraqi Council of Representatives."
However, the Kurdistan Alliance MP Rinas Jano explained that "the dispute between the Governments of the region and the center and the provinces on the division of oil imports is not over yet," stressing the need to "avoid the House of Representatives and the government to repeat the mistakes of the current year's budget bill in 2014."
He pointed to the economic expert Majid picture, to "the need to develop a strategy for the priorities of the general budget for 2015, which should provide military needs class basis," he said.
It is worth mentioning that the mechanism used is to begin ministries in the month of September to prepare lists of Srvyatea and Tkhmonadtha of the budget to which they relate. But so far not issued No. My guess for the budget year 2015, due to continuing differences relating to the share of the Kurdistan region and the oil-producing provinces.
iraqhurr.org