Washington is spending millions to destroy American military equipment, however Daash
Washington is spending millions to destroy American military equipment, however Daash
08/21/2014 (00:01 pm)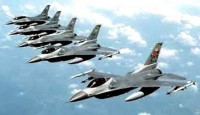 Baghdad / term
Last week was a strange week for American armaments. Has emerged armored vehicles and mine-resistant AR 15 rifles and shields to protect objects camouflaged soldiers in the streets of the suburb in the heart of the United States to contribute to the conversion of a tense situation to riot over the week. Hair and American citizens in Ferguson, Missouri, that a foreign army occupied the city does not typically including a policeman neighborhood known for his friendly deal. It was not luck armored vehicles abroad are better off. While still called Iraq resumed US Air Force tasks bombing in the northern part of this divided country deeply divided. It was announced that the goal of the bombing is to defend the minority sect of professing our Balaesidean know their own and are at risk at the hands of state regulation of Islamic jihad, which controls a large part of the territory of Syria and Iraq. The Islamic state has announced that it Caliphate new and represents the will of God on earth series of stunning military successes during the past few months. Was taken over a lot of territory and slaughtered a lot of people, including civilians. And imposed what it sees as Islamic law despite the fact that many of the scholars of Islam disagree with her in it.
It also captured the Islamic state a huge amount of war materiel American was addressed originally to the Iraqi army, which was rebuilt which, as you know, the army, which collapsed horribly in front of an Islamic state in the past when it was just an Islamic state in Iraq and the Levant, which take off his uniform and threw Bnadgah fled. This left the army behind him also the largest equipment including tanks M1 Abrams (price per six million dollars) and howitzers 52 M 198 (per value of $ 527 337) and armored vehicles (about one million dollars), which is similar vehicles used in Ferguson. Now, American warplanes launched sorties in the cost per hour between her 22 thousand and 30 thousand dollars for the F-16 fighter jets in order to receive the price of two bombs, each at least 20 thousand dollars to destroy the equipment that took place in the hands of the Islamic state. This means that the plane F-16 if launched from Incirlik air base in Turkey and flew two hours to Erbil in Iraq and succeeded in throwing every bomb from Guenbeltaha on goal cost the United States between 84 thousand and $ 104 thousand dollars in presentable one and destroy the equipment American-made not less than $ for a million dollars and not more than 12 million dollars.
, of course, are not the only ones who face the dilemma of this kind. It stands Russians and Ukrainians in the face of each other with tanks and guns and bombs and planes and even military uniforms, which made ​​in one factory. The two countries have one country only 23 years ago. Even after their separation maintained close military ties until recently. Before you decide to Russia that they can not afford to lose her boyfriend Viktor Yanukovych in Kiev, Russian President Vladimir Putin satisfied with the Navy to keep most of its troops in the Crimea, which until then had been a Ukrainian territory. I think that this is the case with weapons. What that manufactured not know never Sasoppea toward the end of it.
almadapaper.net