The Ministry of Finance begins to prepare the budget for next year
The Ministry of Finance begins to prepare the budget for next year
07/29/2014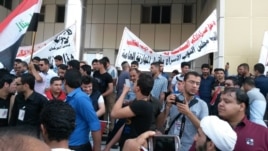 Ministry of Finance announced to start preparing the general budget of the country for the next year, and the development of key strategic own.
The finance minister said the agency purity of net debt in an interview with Radio Free Iraq that he will meet the Presidency of the Council of Representatives distant holiday Eid al-Fitr to discuss ways to pass the current year budget.
This announcement elicited reactions seemed welcoming, but caution on the part of observers interviewed by Radio Free Iraq, as called economic expert on behalf Antoine Ministry of Finance to adopt a plan sober in the preparation of the budget that next year, and that take into account the changes that have occurred in the Iraqi reality such as low Exports of oil and the continuing Fighting between government forces and militants organization (Daash), not to mention the increase in the number of persons displaced by the fighting.
As a political science professor at the University of Baghdad, Saad al-Azzawi has been described early preparation for next year's budget as a "good step", pointing out that the arrival of the 2015 budget that the House of Representatives early to prevent largely repeat the mistakes that accompanied the passing of the previous budgets.
But the MP Haitham al-Jubouri, a member of the study committee's budget in 2014 in the newly formed House of Representatives, has ruled out the possibility of passing this year's budget or next year's budget, without reaching a solution to the dispute between Baghdad and Erbil, despite attempts by the Ministry of Finance in this regard.
iraqhurr.org