United States could launch a military strike against Iraq's air during the 24 hours
United States could launch a military strike against Iraq's air during the 24 hours
06/14/2014 9:25 a.m.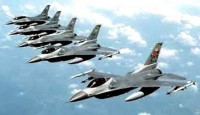 Brother – Follow-up
U.S. news site revealed on Saturday that the United States could launch a strike military air zones in Iraq during the last 24 hours.
The site said buckets Best in a report posted on his site, "President Barack Obama has not responded yet to the request of Iraqi Prime Minister Nouri al-Maliki air strikes U.S. against the jihadists who seized areas in the country, but if President Obama his opinion, will fly American fighters over Iraq in less than one day. "
It said that the "spy planes like the U.S. (Global Hawk) could fly at high altitudes easily over Iraq, such as Afghanistan or any conflict zone again," explaining that "the aircraft carrier (U. S. S. W. H. W.. Bush) exist in the North Arabian Sea and require a few days to get closer to Iraq, which includes dozens of fighters on board. "
He cited the website "The Daily Beast" some officers retired high-ranking U.S. Air Force, including Gen. David Deptulla, first deputy, former Chief of Staff of the Air Force for intelligence, who said that "any military strikes could begin immediately. If providing intelligence information suitable , can start in the air strikes within 24 hours. "
The report quoted a senior Air Force officers retired and who requested anonymity, said, "There is no doubt that we can strike at any time," he said, adding that he saw no "technical reasons or logistical" prevent the diversion assets of U.S. air from Afghanistan to Iraq.
U.S. President Barack Obama, speaking on condition on Friday, getting political reassurances to do any military intervention, stressing that military intervention will not lead to stability in the absence of compromises.
Iraq has been a deterioration in security remarkable push Prime Minister Nuri al-Maliki (June 10, 2014), to declare a state of high alert in the country, after the control of the armed organization "Daash" on the Nineveh province, fully, and progress towards the Salahuddin province, and their control over some regions.
khabaar.net