Finance is seeking to adopt the electronic system in banks
Finance is seeking to adopt the electronic system in banks
11/12/2013 12:00 AM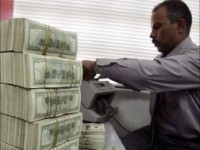 Real Estate Bank confirmed tighten control and audit
Baghdad, Sabah Ahmed Abed Rabbo
, the Ministry of Finance to adopt labor-mail in government banks instead of the manual in collaboration with the World Bank within the project of restructuring the banks, while stressing the Land Bank that this process needs to control and audit electronic severe to prevent money laundering.
said Deputy Finance Minister Fadhil Abdul-Nabi statement (morning) that the ministry is currently working on the adoption of the electronic system in the banking business, rather than manual in collaboration with the World Bank, within the project of restructuring the banks, adding that the system would connect Iraqi banks universality electronically.
, adding that this system will be applied first to the Rafidain and Rasheed through the adoption of the banking system overall, pointing out that the ministry tasked managers of government banks visited international banks and access to electronic systems currently approved, noting that the Minister of Finance Agency Ali Shukri discussed with World Bank representative During a meeting last ways to speed up the application of the electronic system in banks and the mechanics and controls stages of completion. For his part, counting the Associate Director of the Real Estate Bank Khudair Abbas (morning), the adoption of the electronic system in the work of banks, a step in the right direction as contributing to the recovery of banking and shorten steps through facilitate payments through the smart card and get rid of the instruments.
stressed that this process needs to monitor and check the mail to prevent money laundering and financing of terrorism from abroad, calling for the need to include this system all banks in the country.
, it signed the Central Bank of contracts with international companies specialized domain monetary and financial support for the establishment of payment systems, retail and use of credit cards on mobile.
, the bank said in a press statement that within the project to develop electronic systems that contribute to the activation of banking overall banking system, a contract was signed for the establishment and development of infrastructure for payment systems, retail with some international companies, referring to the The contract will come into effect next year 2014.
, and pointed out that it is one of the important projects related to the development of electronic payment transactions in the use of credit cards from inside and outside the country is reflected positively on the development of the banking system and elevate it to the ranks of advanced international regulations.
alsabaah.iq