Iraq begins to form a squadron of F16
Published 07/09/2013 10:00 AM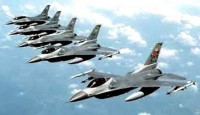 Babinaoz / Agencies:
A security source revealed early on Saturday, the start of the leadership of the Air Force technical procedures for the formation of the first squadron of F16 fighter jets scheduled arrival of the first batch of September next year. Iraqi pilots being more than a year intensive training in Washington by experts to lead the F16 aircraft, while Atdreb about 350 Iraqi technicians in Jordan on English language skills to handle the aircraft.
The source said that the leadership of the Air Force in coordination with the U.S. team specializing in Balad, north of Baghdad, began procedures for the formation of the first squadron of F16 aircraft and on the technical side.
The source added that under the guidance of aircraft radars returned from New joint management between the Iraqi technical side and the U.S., noting that it falls within the ongoing preparations for the completion of the infrastructure for the F16 aircraft.
Baghdad has concluded a contract with Washington to import 18 aircraft that caused another 18 aircraft last contract it has preliminary approval from the American side.
The Iraqi government allocated last year, doubling the budget for the purchase of 36 aircraft of the type F16 and confirmed in September to pay the first installment of the transaction value to the United States.
babnews.com