Ki Card put its strategy for the year 2013 and announces the launch / MasterCard / in the middle of the year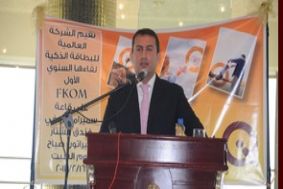 The company announced global smart card / Ki Card / for that mid-2013 will see the beginning of starting service to international / MasterCard / granted feature international roaming.
announced managing director of the company Baha Abdul Hussein Abdul Hadi new strategy in the annual forum first organized by the company at the Hall Semiramis Hotel Ishtar in Baghdad., which will be adopted / Ki Card / for the current year, especially services related to second generation and increase the number of outlets receiving and release and the granting of licenses for moles major and shops as well as hotels and wishing Bmcunninh selling business and shopping.
confirmed / Ki Card / she is launching its services to the second generation customers holders smart card that allows shopping and financial transfer from the card to another and pay the bills, to be able to suffer problems in Fingerprints replaced footprint eye to issue a card smart in the next few days will be able to receive their dues footprint eye too.
They indicated that the new services will open field broad front traders and companies to market their goods through retail and withholding mail. praised department managers and employees efforts by elements in all categories after they managed to rise to "to card" to the ranks of companies sober in Iraq and the region.
mentioned that so suspended its services in the ninth th of February until the twenty-fifth of it to complete the technical measures in the technical process of transition.
ninanews.com