Hakeem urges EU to support Iraq get out of Chapter VII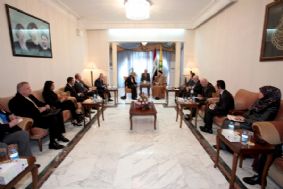 Baghdad (NINA) – Leader of the Supreme Iraqi Islamic Council (SIIC), Ammar al-Hakeem, urged the European Union to contribute in supporting Iraq to get out of the mandate of Chapter VII.
A statement issued on Wednesday, Jan. 23, by SIIC, quoted Hakeem during receiving ambassadors of the European Union, headed by the EU's representative in Baghdad, urging the EU to help Iraq in its move toward democracy, expressing interest in the Union's interest in solving the problems of the Middle East and Iraq.
In the meeting, Hakeem reviewed Iraq's current political situation, and his rejection to the exclusion or margining any Iraqi component. He stressed that peaceful demonstrations are acceptable constitutional right and the demonstrators are citizens with demands; we praise the government fulfilling legitimate demands, in accordance with the law and Constitution; stating that the responsibility to solve the crisis is a joint one, where al side are to bear some.
Hakeem stressed the necessity for the European Union to play an important role in finding a solution to the Syrian crisis; calling for not dealing with the area in a selective way.
He also touched on the situation in Bahrain urging the EU to exert more efforts to establish a climate that would calm the situation between Iran and the Arab countries that have disputes with it.
For her part, the European Union representative said that Iran is an important country in the region and the EU encourages having dialogue with it toward reaching a peaceful solution regarding its nuclear issue and she denounce violence in Syria.
The statement pointed out that the meeting witnessed discussion and exchange of views between Hakeem and a number of ambassadors related to finding suitable solution to Iraq's current crisis as well as covering a number of other issue of common interest.
ninanews.com