Zebari meets with China's Ambassador in Iraq.-chap 7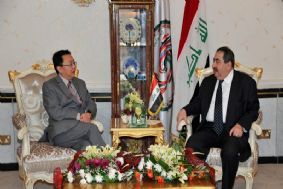 BAGHDAD / NINA / Foreign Minister, Hoshyar Zebari discussed with Ni Jian, the China's Ambassador in Iraq, bilateral relations and ways to enhance them.
A statement by the Foreign Ministry said that "Zebari told Jian a message from the Iraqi government about the ongoing deliberations in the Security Council on ending the mandate of the international Coordinator over the file of prisoners and missing Kuwaitis.
He also called to China's cooperation to help Iraq in the process of going out of the provisions of Chapter VII of the UN Charter, the Security Council, adding that, the Undersecretary for Policy Planning and bilateral relations and head of the Asia Department and Director of the Minister's Office attended the meeting.
ninanews.com