Pictures from the Mosul Dam.. It stopped generating electricity and its lake is at the lowest levels
Pictures from the Mosul Dam.. It stopped generating electricity and its lake is at the lowest levels
2023-01-24 03:33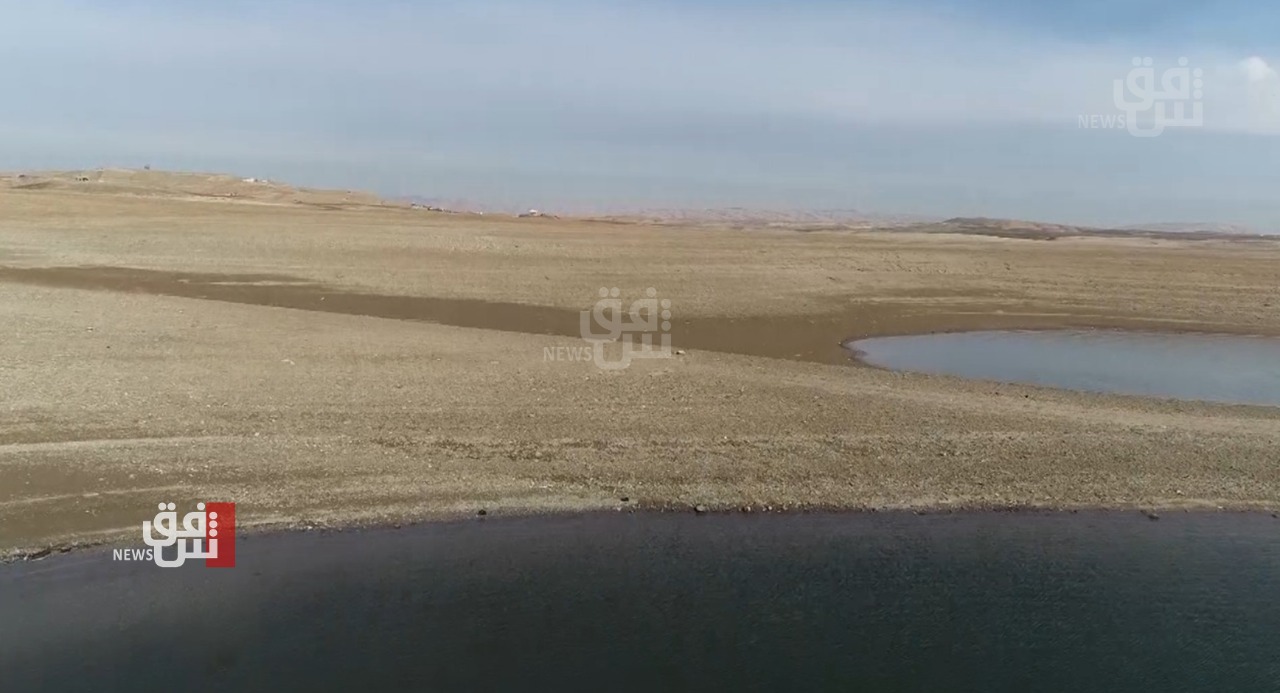 Shafaq News/ A strategic expert warned, on Tuesday, of the danger of a "humanitarian catastrophe" that will befall Iraq due to the lack of water, pointing out that the water level in the Mosul Dam Lake has reached its lowest level.
Ramadan Hamza, a water strategies expert in Dohuk, Kurdistan Region, told Shafaq News agency, "The water level of Mosul Dam Lake has reached the lowest levels," noting that "the highest percentage of Mosul Dam Lake water is about 8 billion cubic meters, and currently it is less than 4 billion cubic meters." And part of it is a dead stock of about 3 billion cubic meters, and therefore the strategic stock is less than one and a half billion."
Ramadan warned, "Iraq is on the brink of a humanitarian catastrophe due to the lack of water," stressing that "the government must intervene and negotiate with neighboring countries, Turkey and Iran, in order to release water into Iraqi territory through river levels."
The water strategies expert pointed out that "the Mosul Dam has stopped generating electric power due to the low water level of the lake."
Hamza expected that this year would be the most rainy year, explaining, "We are on the verge of heavy rains during February, March, and the rest of the coming months, but this does not mean that the strategic water storage is safe."
On the 12th of this month, the mukhtar of the village of Khanki, overlooking the Mosul Dam, revealed the appearance of the ruins of a school dating back to the seventies of the last century, as a result of the low water level in the dam lake.
The decline in water levels in the main or secondary rivers during the previous periods led to the emergence of ancient sites or buildings.
Today, Tuesday, the President of the Iraqi Republic, Abdul Latif Rashid, acknowledged the existence of outstanding issues between his country and neighboring Turkey related to the demarcation of borders and the water share, expressing his hope that these matters would be addressed.
Earlier, the expert in the field of water, Jassem Al-Asadi, warned, through Shafaq News Agency, of an expected "water poverty" in Iraq during the coming summer, and called on the government to act wisely from now and limit optimism, since the main dams in the country are still suffering from water shortages. Drought.
The Mosul Dam, which was built in the year 1950, is considered one of the largest dams built in Iraq, and it is ranked fourth as it is one of the largest dams in the Middle East region. This dam provides water and electricity to more than a million Iraqis.
shafaq.com