Al-Maliki: Parliament will not be dissolved or early elections unless this condition is met
Al-Maliki: Parliament will not be dissolved or early elections unless this condition is met
2022-08-09 08:26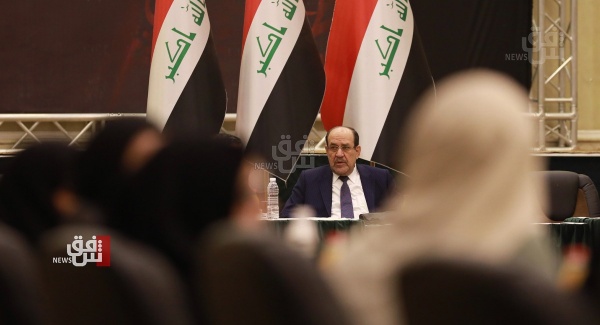 Shafaq News / The head of the State of Law coalition, Nuri al-Maliki, refused, on Monday, to dissolve the Iraqi parliament and hold early elections, except after the parliament returns to meeting normally.
Al-Maliki said in his speech on the occasion of Ashura, "Iraq is a country of components and its people are made up of components, sects and nationalities, and therefore no will can be imposed on it, except with the will of the entire people, through its constitutional institutions, which are represented by the elected parliament."
He added: "Therefore, there is no solution for Parliament, no regime change, and no early elections, unless the Parliament returns to session, and it is the one that discusses these demands, and what it decides we proceed with."
The political process in Iraq, since the announcement of the election results in October 2021, has witnessed a suffocating obstruction that escalated to a climax when the Sadrist bloc alliance with the Kurdistan Democratic Party and the Alliance of Sovereignty, and then when the House of Representatives held a session to elect the President of the Republic, who in turn assigned the largest parliamentary bloc to form The government, and escalated further after the Sadrist bloc's 73 deputies submitted their resignations from the House of Representatives based on the desire of the Sadrist leader Muqtada al-Sadr. Their leader Muqtada al-Sadr.
shafaq.com