Nechirvan Barzani: There is an opportunity to overcome the political blockage in Iraq
Nechirvan Barzani: There is an opportunity to overcome the political blockage in Iraq
2022-05-25 01:27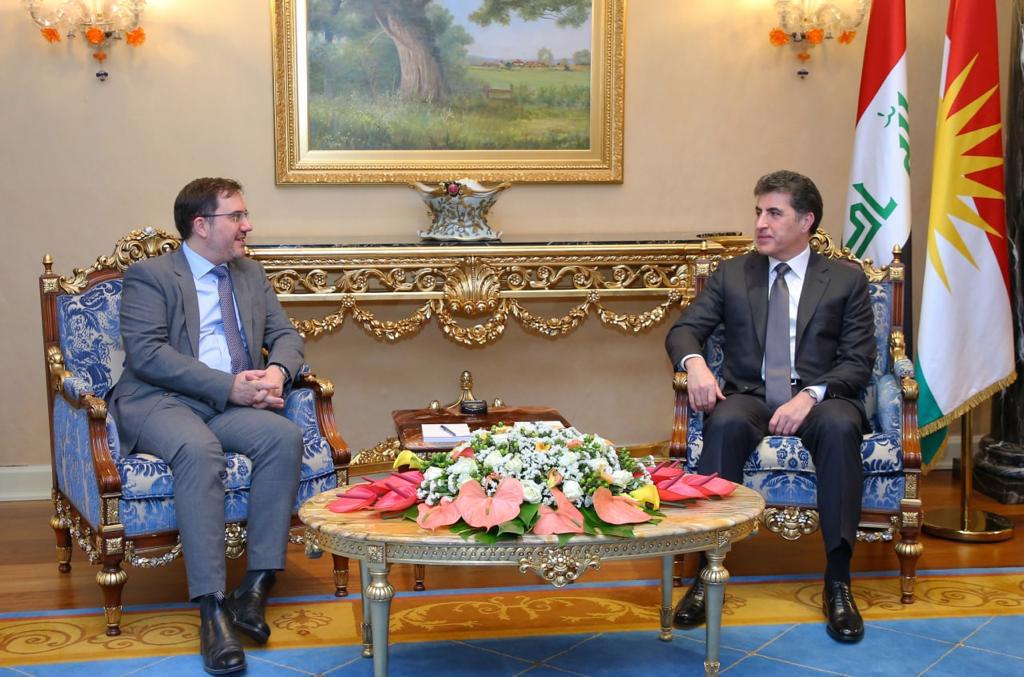 Shafaq News/ The President of Kurdistan Region, Nechirvan Barzani said, on Wednesday, that the opportunity is ripe to overcome the political blockage in Iraq, provided that the decision and will of the parties and political forces are available.
This came during his meeting this morning, Mark Bryson, the British ambassador to Iraq, and a political and military delegation accompanying him, according to what the Kurdistan Region Presidency said in a statement.
The statement indicated that in a meeting, they discussed ways to strengthen Britain's relations with Iraq and the Kurdistan Region, the latest developments in the political process in Iraq, the internal conditions of the Kurdistan Region, the war on terrorism and ISIS movements, especially in the constitutional Article 140 areas, climate change and its effects on Iraq, the Kurdistan Region and the region.
The statement added that the two sides stressed the need for a common vision and understanding between the Iraqi parties in order to reach a solution, and they agreed that if the political decision and will is available, there is an opportunity for the political parties to reach a comprehensive solution that leads to overcoming the political closure and blockage.
The statement also noted that the two sides expressed their concern about the situation in Sinjar and the developments in the region, which led to a new exodus of the Yazidi people, and stressed the importance of joint action between the Iraqi federal government and the Kurdistan Regional Government to restore safety to the region.
President Nechirvan Barzani's visit to Sulaymaniyah and his meetings with political parties, Erbil-Baghdad relations, Iraq's relations with its neighbors and other issues of common interest to both sides, constituted another focus of the meeting, according to the statement.
The President of the Kurdistan Region, Nechirvan Barzani, announced on Sunday, during his visit to Sulaymaniyah Governorate, that a ground had been reached to resolve the political impasse in the region and all of Iraq, announcing the success in stopping the media war between the Kurdistan Democratic Party and the Patriotic Union of Kurdistan.
President Barzani said that "we are still in contact with the parties in Iraq and the Kurdistan Region to address the political impasse."
He added, "We succeeded in stopping the media war between the Kurdistan Democratic Party and the Patriotic Union, as we reached a ground for resolving the political blockage," adding that "there are no problems that cannot be resolved, but there are many obstacles that appear from time to time."
shafaq.com