Al-Kazemi's office announces the details of his meeting with Biden and sets the date for the official withdrawal of US forces
Al-Kazemi's office announces the details of his meeting with Biden and sets the date for the official withdrawal of US forces
Posted, 2021-07-27 14:17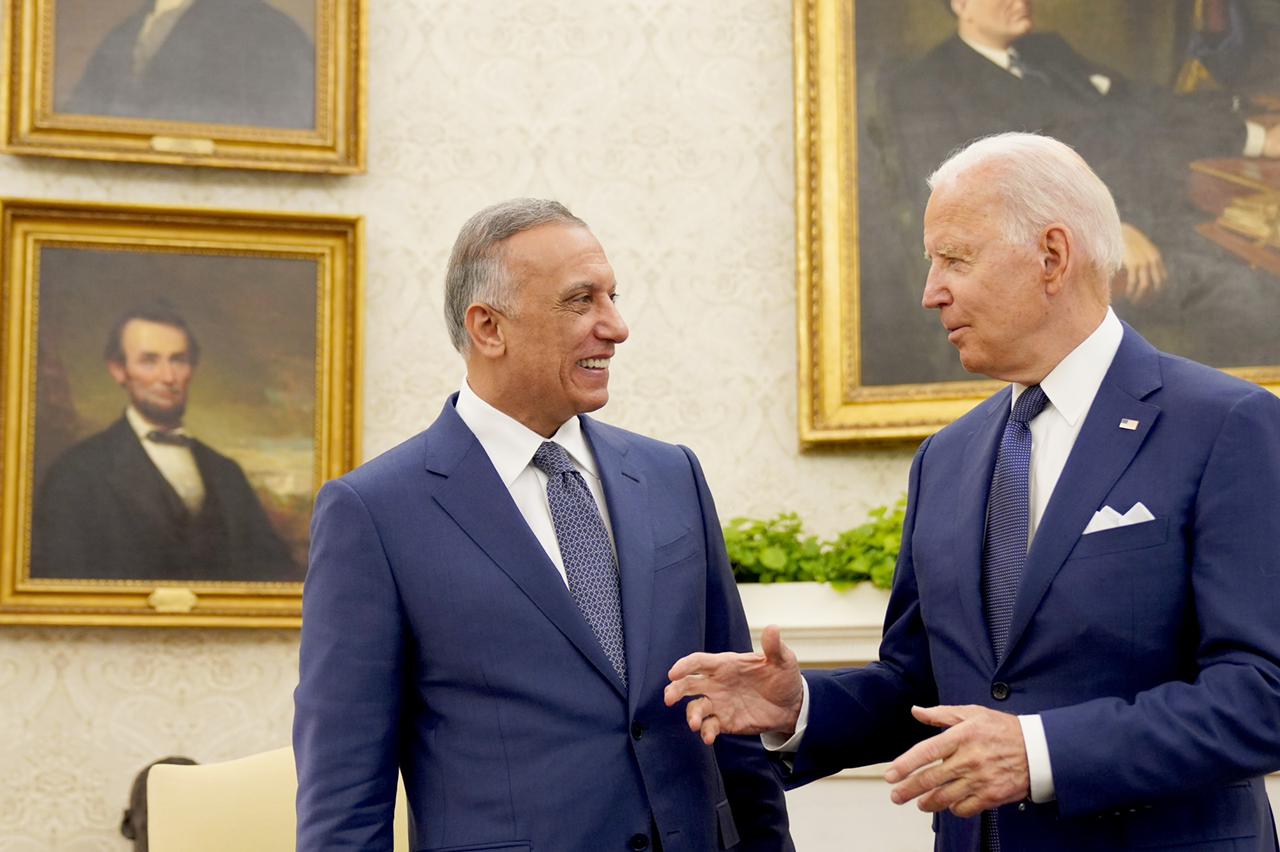 Shafaq News/ The media office of Iraqi Prime Minister Mustafa Al-Kazemi announced on Monday the details of his meeting with US President Joe Biden.
The office said in a statement received by Shafaq News Agency, "The two sides held a round of talks at the White House in Washington, which dealt with various aspects of strengthening relations between the two countries in all security, economic, cultural, educational and health fields."
The meeting witnessed, according to the statement, "the mutual affirmation of the transition of the security relationship between the two parties to the tasks of advisory, training, support for building Iraqi military capabilities, providing technical support to the Iraqi armed forces, and the absence of combat forces by December 31 of this year / 2021."
Biden praised, according to the statement, "Al-Kazemi and the Iraqi government's growing role in moving Iraq towards stability, and its effective contribution to laying the foundations for peace and calm in the Middle East."
The meeting also witnessed "confirmation of the support of the United States of America to Iraq, on the course of holding the parliamentary elections scheduled for the tenth of next October."
Al-Kazemi stressed, "Iraq's aspiration to build strong relations and a solid partnership with the United States of America, on the basis of respect for Iraqi sovereignty, and within the framework of the strategic agreement between the two countries and the preservation of Iraq's interests."
He also expressed Iraq's appreciation for the American support in the efforts made to hold the Iraqi parliamentary elections as scheduled.
The two sides discussed expanding the horizon of investment for American companies in Iraq, and the steps taken by the Iraqi government in providing an attractive environment for investment in promising opportunities in Iraq, in a way that enhances economic stability and increases job creation.
During the meeting, they also discussed bilateral efforts and joint cooperation in combating the Corona pandemic, and the United States' readiness to provide more vaccines in order to support the Iraqi government's efforts in prevention and health protection for our people.
shafaq.com